Those of you who consider yourselves fashion mavens might hear the phrase "personal statement" and think about how you might make a statement with your outfit at your grand entrance at next weekend's party.
Though writing a personal statement generally has nothing to do with how you dress (unless, perhaps, you work in the fashion industry), it does have something in common with appearances.
What you wear can say a lot about your style and maybe even your personality. A personal statement says a lot about who you are as a student, who you are as a person, and who you hope to become as a professional working in your chosen field.
Not sure how that translates into an actual written document? Check out these two personal statement examples that will inspire you.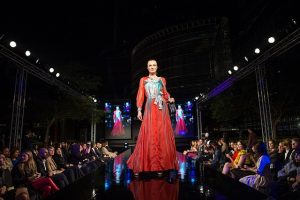 A Review of Personal Statements
A personal statement is generally an essay (usually a page or two long) that you'll write as part your college admissions process or as part of a job application process.
A personal statement is your chance to shine. It's your chance to demonstrate to the committee that you're a perfect fit for the college or for the job.
Remember that even though personal statements are usually required for general college admissions, you might also write a personal statement as a college student if you're applying for a specific program, such as a nursing or teaching program.
You may even be asked to write a personal statement in the form of a teaching philosophy statement if you're in the education program or if you're applying for a teaching position.
If you'd like a little more information about personal statements, take a look at these posts from our blog:
If you'd like even more information, I suggest reading Tips on Writing Personal Statements.
Now that you've had a chance to refresh your memory on the finer points of personal statements, let's take a look at two personal statement examples.
Stuck on Your Essay?
Check out thousands of example essays.
2 Personal Statement Examples That Make a Strong Statement
The examples below illustrate two slightly different types of personal statements.
The first is a standard personal statement with the goal of college admission. The second is also a personal statement but is specific to education. Thus, it explains the writer's teaching philosophy. This personal statement was written as part of a job application.
In each example, I've noted strengths of the personal statement and highlighted places where the writer might improve the statement.
For both personal statement examples, my commentary is below each paragraph. When you see a number in brackets at the end of the paragraph(s) *[#], my comments apply to the preceding paragraph(s) as a whole.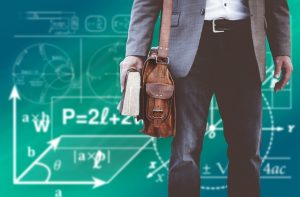 I've always envisioned myself as becoming the type of physician that is an integral part of the community I live in. I believe the role of a physician extends beyond simply being a medical practitioner for a patient. Becoming a physician is a privilege that would place me in a position to be a pillar to my community. I know that Georgetown University understands this notion, from its focus on cura personalis, to its principles of community service. Georgetown offers many tools that would allow me to shape myself into the type of physician I aim to become. *[1]
Susan says:

*[1] The writer opens the personal statement with a first-person description of his goals as a future physician and what he believes is the role of a physician.

This is an excellent strategy. It clearly outlines the focus of the statement: to describe his future plans as a physician.

The last sentence also makes a clear connection between the writer's personal beliefs and how they align with the school's mission.
Georgetown University's premise of cura personalis, an idea that aims to heal both physically and psychosocially intrigues me. I know that the underlying principles of cura personalis were designed to respect each individual human being, especially those who are the most disenfranchised in our society. This concern for the most vulnerable members of society draws me to Georgetown. Georgetown acknowledges the existence of the working class and underserved individuals in our society; as well as those who feel they aren't receiving the proper representation. *[2]
Susan says:

*[2] Building off the end of the previous paragraph, the writer also makes a clear connection in this paragraph to his personal beliefs and how they align with the university's mission and academic programs.

This is another great strategy because it demonstrates the fact that the writer's goals are a perfect match with the goals of the university.
I began volunteering at a Kingsbrook Jewish Medical Center, an acute care facility in Brooklyn, as a patient advocate and navigator. As an advocate I gave a voice to patients who came from my own community. When I performed follow up surveys I was delighted to hear them speak positively about their hospital visits, which for many people can be a painstaking task. I aim to deepen my commitment to my community and work to empower its members that feel powerless. Much like the premise of cura personalis I believe that a community needs to be cared for on multiple levels, healthcare being only one such level. *[3]
Susan says:

*[3] An important aspect of convincing a college that you should be admitted is to illustrate your past achievements and explain how they align with your future goals.

In this paragraph, the writer does just that. He explains his past experience in the medical field and how it will inform his future work as a physician.
My decision to pursue medicine is a fairly recent one. When compared to some of my cohorts that will be applying to Georgetown University, I am likely to have less clinical experience . I'm excited to take advantage of two opportunities for clinical experience offered at Georgetown that would be invaluable. *[4]
Susan says:

*[4] Remember, being honest and sincere is important in a personal statement. Readers want to learn about both your strengths and possible shortcomings.

Here, the writer is honest, indicating that his experience is limited but that he's eager to continue his education and take advantage of the programs at Georgetown.
Georgetown's emphasis on an early introduction to patient care and clinical training which, I have heard, can begin as early as the first semester is the first clinical opportunity that I'm drawn to. It excites me to think that I can begin clinical training that early. After submitting my AMCAS I've begun to shadow Dr. Latif, a hematologist/oncologist, at Kingsbrook Medical Center. Sitting in with Dr. Latif and her residents during clinicals has become the high point of my week. Watching Dr. Latif as she engages patients, uses her knowledge, and puts patients at ease is inspiring. In order to instill the same level of comfort and show the same attention to detail I know I have to increase my clinical training at the first opportunity I get. *[5]
Much like New York City, Washington D.C. is a city with a large degree of diversity. I am interested in working with diverse patient populations, as well as giving back to the community I live in. Georgetown's HOYA Volunteer Clinic is another opportunity for students to do both of those things. It is my hope to be able to be a part of D.C.'s volunteer clinic by serving D.C.'s medically underserved patient population. The HOYA clinic would allow me to expand upon the clinical experience I started through volunteering at Kingsbrook, a small urban hospital in Brooklyn. *[6]
Susan says:

*[5], *[6] The writer uses these two paragraphs to highlight the programs he believes will be helpful to him in his studies. Notice that the writer clearly describes the programs and how they fit with his goals.

This description of the programs is another excellent strategy. The admissions representatives will expect you to have some knowledge of the school and its programs if you're applying for admission.
It would give me a great deal of pleasure to extend the principles of cura personalis on a global level by helping the global community. Again, Georgetown acknowledges that better healthcare options are essential to all people, not just those in the United States. The elective international medicine programs offered at Georgetown grabbed my attention. As someone who relocated to the United States at an early age, I have an appreciation for those that recognize the existence of the developing world. I've long been interested in other cultures and languages to the point where I've devoted a good deal of time to learning the Spanish language to help me better communicate with coworkers and community members in my first job at a popular fast food restaurant. Those I communicated with deeply appreciated my effort in making it easier for us to understand each other. Since then, I've also made attempts at self teaching the Japanese language. I know that interacting with a wide range of people, and immersions in the culture of others is a necessity in today's multi-cultural society. Only through communication, and exposure to those unlike myself can I continue to be open minded. *[7]
Susan says:

*[7] Here, the writer focuses on life outside of the university and how he has worked with a variety of cultures. This demonstrates both his willingness to work in the community and his excitement for his future profession.

Keep in mind that admissions representatives will want to see you not just as a potential student but also as a well-rounded individual. Therefore, it's a smart idea to include information about your volunteer efforts and community involvement.
The last reason for choosing Georgetown pertains to its location in our nation's capital; a city that is as vibrant and diverse as New York City. To experience another cosmopolitan city would only increase my versatility as a physician through my exposure to a wide array of people and conditions. It is my hope that the transition from New York to D.C. will be a smooth one because of the similarities of both locations. *[8]
Susan says:

*[8] Though the location of the school may be crucial to this student, this last paragraph is out of place. It's important to end strong and leave readers with a good impression. This paragraph falls flat.

The writer could have deleted this paragraph or revised to include the information in another part of the statement.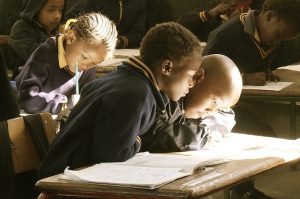 Teachers play a pivotal role in the learning experience of students. An effective communication between the students and the teacher is made when students with different levels of background knowledge and career goals find a common interest in the subject being taught as well as in the method of teaching being applied. As a student I was very fortunate to have a group of teachers who showed me the connection between the real world and the science taught in the classroom. As a teacher, my philosophy is to share that gift with my students that will not only facilitate knowledge acquisition and improve technical competence but also cultivate critical thinking ability and problem solving skills in their professional life.*[1]
Susan says:

*[1] The writer opens his personal statement with a clear, focused statement that links his past learning to his current goals as a teacher.

The goal of this type of personal statement (a teaching philosophy) is to explain one's personal beliefs and goals as a teacher.

This opening does just that. It clearly demonstrates the aspects of teaching that he deems most important.
My philosophy is to ensure that my students are able to retain the essence of my teaching and would apply it during their professional career. To achieve this goal it is important to develop a sense of appreciation for classroom teaching of basic and applied biological sciences among the students and to explain how this knowledge would help them to perform better in professional career. I frequently use case studies and simulated clinical setups to demonstrate the bridge between textbook knowledge and real life challenges. I also incorporate active learning elements, such as brainstorming, creative thinking, organized group activities and role-playing to facilitate cooperative learning as well as to keep students actively engaged in my class. I often arrange my quiz sessions in a group activity where two to three students can discuss their answers or ideas before sharing it with the entire class. These types of exercises keep students interactive and reduce their apprehension for being called upon individually, and thereby increase the level of participation. *[2]
Susan says:

*[2] This paragraph outlines the types of real-world examples he uses in his classroom to help students make connections and develop critical thinking skills.

Including specific examples allows the interviewers to see exactly what his classes are like and how they are part of his teaching philosophy.
Adopting a multi-component teaching technique in every levels of the curriculum, from course design to feedback based continuous evaluation system enables me to understand my students more closely, care for their individual success and well-being and help every student to achieve their personal goals. I like to design the lectures and the laboratory sessions in a tightly integrated fashion, at most a few days apart, so that students can remember the concept at the time of applying it in the laboratory. This facilitates the learning process two ways; first, recently learned theoretical facts help them to grasp laboratory techniques relatively easily and second, hands on application helps them to understand the concept with better clarity. *[3]
Susan says:

*[3] This paragraph illustrates another technique this teacher uses to help students succeed: scheduling labs and lectures close together to help students retain information.

Again, this paragraph provides specific examples that help illustrate his teaching philosophy.
I understand that different institutions, departments and programs differ in their philosophy and value system and mostly driven by the needs of the respective student population. As I look forward to pursue my teaching career at the North Georgia College and State University, I am eager to learn from my colleagues who have vast teaching experience and are knowledgeable about the students in this particular institution. I am confident that with my sincere effort and personal attention to every student, I will become a part of the team providing quality education to our students and serving our community. *[4]
Susan says:

*[4] Note that the tone of this section becomes a bit humble. The writer acknowledges that, even though he's an effective teacher, he's eager to learn from colleagues who may have even more experience.

Remember to keep the tone of your own personal statement in check. You want to impress your audience without sounding like you're so great that you're almost too good for the school or for the job.

At the same time, though, you want to be project self-confidence and be persuasive.
Teaching Experiences
Earlier after my masters in pharmaceutical sciences and one year experience of senior research fellow at the prestigious National Institute of Pharmaceutical Education and research in the Natural Products department, I was appointed as lecturer in Pharmacy at Himalayan Pharmacy Institute, India. During my two and half year lecturer ship I have offered courses in Pharmacognosyor Natural Product Chemistry, and Analytical Chemistry for undergraduate Pharmacy students. Many students became interested in isolation and purification of bioactive molecules from plants and later they pursued higher studies. Several of the students always kept in touch with me even after I left Himalayan Pharmacy Institute and came to University of Nebraska Lincoln to pursue PhD degree. After joining University of Nebraska Lincoln in a PhD program in micro/molecular biology I was awarded Teaching Assistantship for five consecutive years. During this time I was Teaching Assistant for Freshman Biology, Freshman Microbiology, and traditional Microbiology Lab courses. In 2008 and 09 I was Head Teaching Assistant where my duties included mentoring other Teaching Assistants, preparing Laboratory examinations along with teaching. *[5]
Susan says:

*[5] Here, the writer lists his professional achievements. Take note that this is a list of achievements, not a paragraph in which you brag about how great you are.

While it's fine to highlight your achievements, it's not okay to try to be someone you're not. In other words, be honest about what you have (or have not) done.

Don't try to add information just to make yourself sound better (or just to make your statement longer).
Teaching Plans
During my PhD I have successfully completed graduate level courses on Industrial Microbiology and Biotechnology, Microbial Physiology, Fungal Genetics and Cell Biology, Microbial Diversity, Food Bourne Pathogens, Pathogenic Microbiology, Cell Biology and Genetics, Molecular Genetics, Bioinformatics, Immunology, Protein Structure and Functions. I have broad research expertise in the fields of Microbiology, Eukaryotic Cell Biology, Biochemistry, and Genetics that have prepared me perfectly to offer undergraduate level courses in these fields. I am also equally adept in offering graduate level courses involving basic Eukaryotic Biochemistry, Genetics, and Cellular Biology with a focus on Cancer along with Yeast and Fungal Genetics.*[6]
Susan says:

*[6] In this final section, the writer highlights the relevant courses he has completed, his research skills, and what courses he is qualified to teach.

This final paragraph works well to sum up his statement. It helps the interviewers see exactly how and why he would be a good fit for the school.

Using this type of ending is a smart idea because it leaves readers with some final thoughts on why you're perfect for the school or the job.
Make a Statement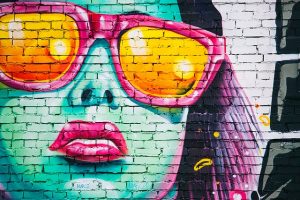 Remember, you're trying to make a statement with your personal statement.
While the lessons learned from the personal statement examples above can help you write a stronger statement, readers only have the example you send to them as evidence of who you are and what you stand for. Thus, you need to make sure it's a true representation.
Sometimes it can be difficult to read your own writing and truly be objective. It can be hard to tell if you've captured the essence of you in a page or two.
To help determine if you've made a good impression, read your statement through the eyes of your audience. What is it you think they'd like to know about you? (They've probably hinted—or even outright told you—about what they'd like to see in their written guidelines.)
Not sure you know if you've hit the mark? Send your personal statement our way, and a Kibin editor will be happy to provide expert feedback.