It's that time of year again: Valentine's day is fast approaching. While Hallmark is getting giddy, flower shops are gearing up to gouge men the world over, and spoken for women try to contain their anticipation, some of us aren't so thrilled.
For many, Valentine's day is simply a painful reminder that our quest for love has proven futile for yet another year. Instead of a romantic, candlelit dinner, perhaps you'll be sitting at home in your underwear with a bottle of wine, turning to the inter-webs in your yearly ritual to update your online dating profile.
*sigh*
But what if I told you that your lack of love isn't related to your dimly lit profile picture or the fact that your hobbies include extreme dog grooming. The truth is, you've been shunning would be cyber stalkers because of your bad grammar.
Wait… grammar?
That's right. It turns out, good grammar is directly correlated to an individual's initial attraction. Don't believe me? I figured as much.
Over the last few weeks, I've been busy polling 1,700 men and women online daters about their propensity to be hot and bothered by a smashingly composed online dating profile.
Here's what I found:
Good Grammar Gets Love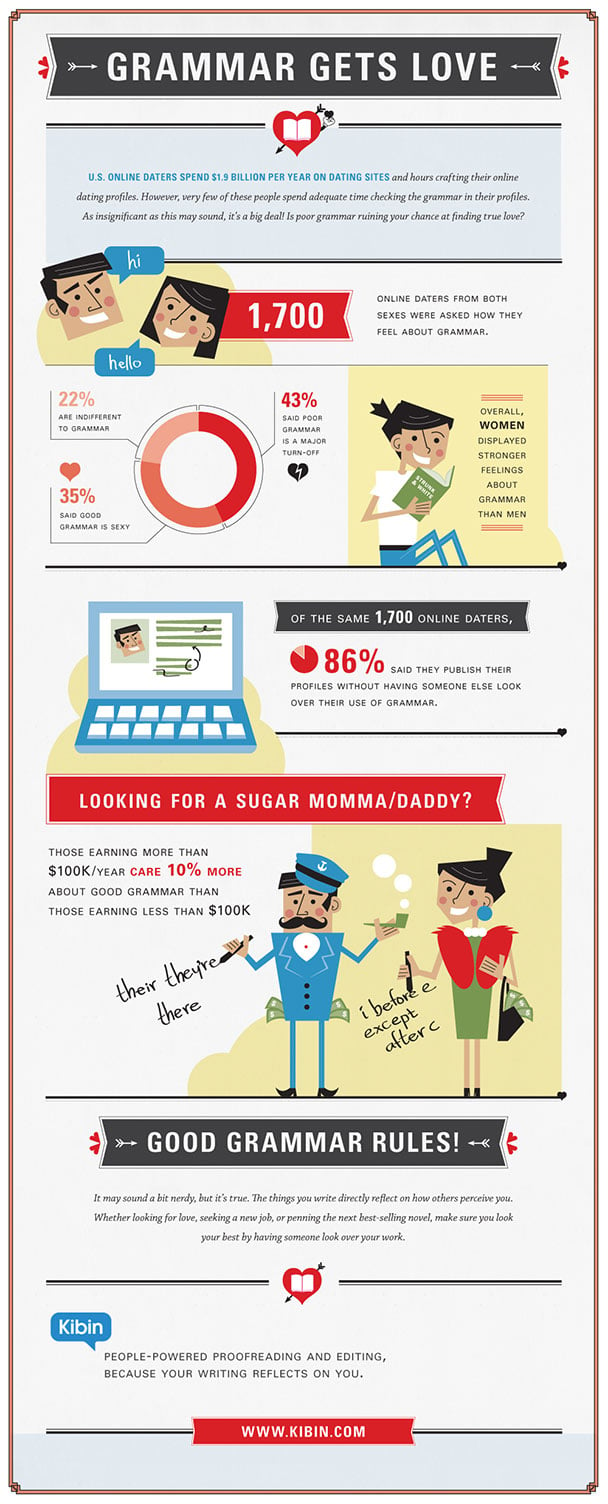 Want to display this infographic on your site?
Simply copy and paste the code below into the html of your website to display the infographic presented above:
In closing, before you publish that public, online dating profile (or any other important writing), have someone proofread and edit it. Kibin offers professional proofreading services 24 hours a day!
And finally, what do you think? Has running into bad grammar killed your hopes for finding love online, or are you willing to simply cringe and try to look past the bad grammar? Share your thoughts in the comments below.