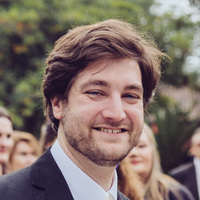 58
clients like this editor!
More About Daniel
---
Professional editor, writer and author. My debut novel was shortlisted for the 2018 Wilbur Smith Adventure Writing Award. I love helping people perfect their writing and enjoy working on a range of subjects.
What types of documents do you enjoy editing the most?
Ficition, university papers, PhD/Masters Research, student essays, cover letters, short stories, articles - anything, really!
In what subject areas are you an expert?
STEM (Science, Technology, Engineering, Mathematics) topics, Psychology, Philosophy, Technical Writing, Short Stories, English Language and Literature, Entertainment, Gaming, History, Travel.
What do you do when you're not editing on Kibin?
Explore my adopted country of Colombia, travel, write, eat...and maybe the occasional video game here or there!
Best times to request this editor:
Monday, Tuesday, Wednesday, Thursday
08:00am to 05:00pm
(GMT-05:00) Bogota
(This is not a guarantee of editor availability.)
Psychology BSc (Hons)

Expert in APA, MLA, Harvard, AP, Chicago styles and others

Native English speaker

UK, US, Australian and Canadian English

8+ years editing experience

Extensive business experience (including CVs, resumes and business proposals)

Shortlisted Author
Client Feedback and Praise
---
Thank you so much for all your work. Your comments and corrections were super helpful and really improved my paper!
Thoughtful and helpful comments, as always! Thank you Daniel.
Thank you for making my essay stronger. The wording and syntax look more professional with your editing.
Hi, Daniel, Thanks a lot. With your editing, my essay is much better, even I put some new details in it.