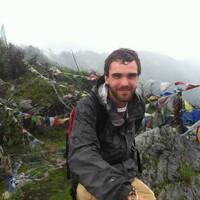 2
clients like this editor!
More About Stephen
---
I am an anthropology PhD candidate at the University of Heidelberg, Germany. I have been a freelance editor for 4 years now and enjoy all forms of editing!
What types of documents do you enjoy editing the most?
Social science or humanities dissertations, academic journal articles, and theses.
In what subject areas are you an expert?
Anthropology, linguistics, sociology, religious studies, history, political science, cultural studies, environmental studies, agrarian studies, political ecology, human geography, indigenous studies, Buddhism, South Asian studies, Himalayan studies, Tibetology.
What do you do when you're not editing on Kibin?
When I'm not editing, you can usually find me studying my Tibetan flashcards or learning German. I have a passion for languages! Ask me about Sino-Tibetan linguistics, Old English grammar, ancient Chinese, hieroglyphics...any lingua franca or sprachbund. I also love hiking, reading, swimming, travelling, and hanging out with my black short-haired cat Cloudy.
Best times to request this editor:
Every day (Monday to Sunday)
12:00am to 12:00am
(GMT-08:00) Pacific Time
(This is not a guarantee of editor availability.)
MA in Anthropology, Florida Atlantic University

BA in Anthropology, University of Virginia

4+ years editing experience

Versed in Chicago, Harvard, MLA, ASA, APA, and Vancouver styles

Native English speaker, proficient in Spanish and Tibetan, conversational Chinese and German
Client Feedback and Praise
---
I'm not sure if many edits were left on my document. While I agree with almost every edit the editor left, I would have wanted more feedback and revisions.
Thank you for taking the time to review my paper in only 12h! The structure is much clearer now and you point out my shortage so i can fix it.
Thanks, your work helped me a lot.