When you apply for a job through a job board or big corporate website, there's a risk that your resume will never even be looked at by a human recruiter. It's true. Complex algorithms are the first gatekeepers, weeding out, filtering, and throwing tons of resumes into a digital recycle bin before they even have the chance to see the light of day.
Sadly, most people aren't aware of this preliminary resume screening. Even qualified applicants can end up with their resume in the dead pool if they don't know how to tailor a resume to make it through the first cut.
The good news is that in this article we'll teach you 4 resume tricks that will keep your resume from getting blocked by machines and will help your resume to stand out online.
Resume Tricks #1: Outsmart Electronic Gatekeepers
When you apply online for positions at big corporations, chances are they're using an applicant tracking system (ATS) to sort through the thousands of resumes they receive. The ATS picks out what it determines to be the most qualified applicants, and it forwards only those resumes to human recruiters. This could mean that only 10 or 20 out of a thousand applicants ever make it to the recruiter's inbox. This system relies on contextual keywords and formatting to qualify your resume.
The problem with electronic gatekeepers is that qualified people sometimes get sorted out or even blacklisted due to technicalities.
What this means is that even if you are qualified for the position, if your resume has spelling or formatting mistakes or doesn't use the right keywords, it won't get past the gatekeeper.
So how can you tell if the job you are applying for is using an applicant tracking system? Typically, any time a company asks you to apply through an online career portal, your resume is being routed and parsed by automated software before it ever has the opportunity to land on the desk of a human recruiter.
When you apply for any job that uses an online submission portal, look at the hyperlink to see if an ATS will be reviewing your resume. Here is a screenshot of Chase bank's career portal. You can see that it clearly says "taleo" in the hyperlink, which is a known ATS.

Here's a screenshot from McDonald's that shows "AON," another ATS program, in the hyperlink.

In addition to big corporations using ATS to sort candidates, the typical career search service like Indeed or Monster will also use a similar electronic system to match candidates with positions. It's vital for you to make sure your resume is ATS-friendly.
To ensure that an ATS doesn't blacklist your resume, do the following:
Check your resume for spelling and word choice errors. If, for example, the automated system is searching for an applicant with experience in "network databases," and you accidentally write "networth databases," you can be sure that your resume will be weeded out.
Don't use complex formatting. Bullets are fine, but don't use tables, headers, images, or anything else that might confuse the ATS.
Use standard fonts like Times New Roman or Arial.
Always list the dates of employment to the right of the job description and not to the left. For example,
Lead Customer Service Representative April 2011–January 2013
Want more? Read this resource for more great tips on how to optimize your resume for an ATS.
Resume Tricks #2: Use the Right Keywords
In my previous post, 6 Resume Mistakes to Avoid, I explained the importance of doing keyword research and using the right keywords in your resume. This post takes that concept a step further.
Consider how applicant tracking systems, as explained in the first hack, screen resumes. These systems compare keywords and phrases from your resume against keywords and phrases from the job description to determine whether you are a qualified applicant. This is why it's important to use keywords in your resume that closely reflect the job description.
Your resume needs to be tailor-made specifically for the job that you are applying to in order to leverage those specific keyword phrases. This means you need to have a unique resume for each job that you apply for.
Not sure what words your potential employer cares about? Here's where the hack comes in. Try copy/pasting the job description into a Word Cloud app such as Wordle.
Let me show you how this works using a job description I found on LinkedIn.
Here's the original job description: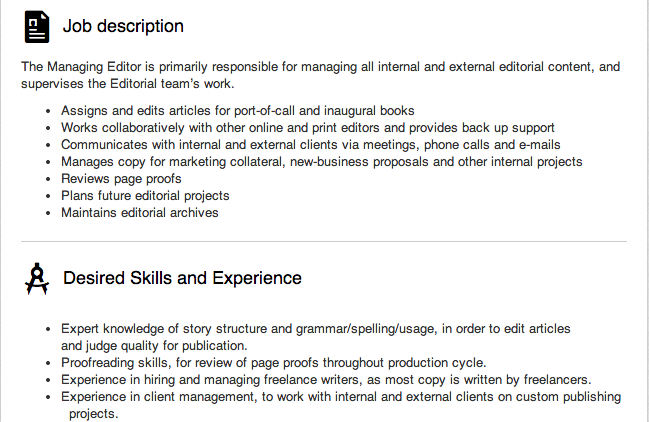 I copied the job description directly into the word cloud generator. Here it is recreated as a word cloud: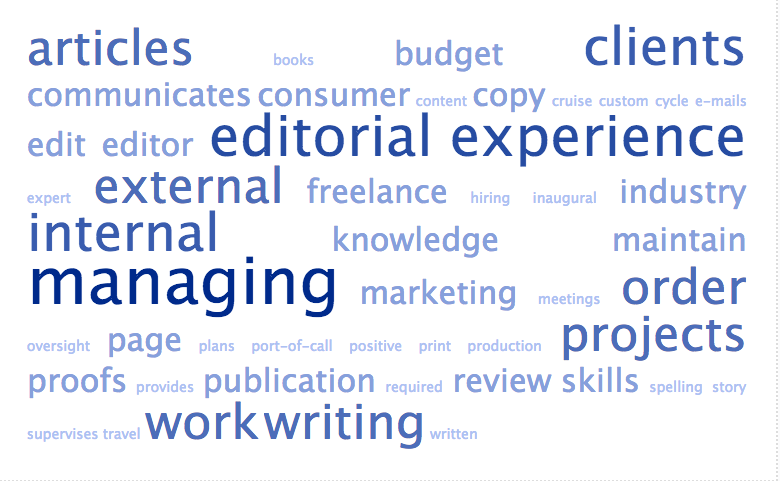 Armed with my word cloud, it's easy for me to pinpoint the most important words in the job description. The next step is to list them in order of importance:
Managing
Editorial
Experience
Internal
External
Clients
Articles
Writing
Work
Projects
Order
Budget
Marketing
Communicates
Etc.
Now I have a clear understanding of what words are important. However, I can't just write them out in a bulleted list like this on my resume.
This means that you must use keywords from the job description in your resume in a way that showcases your talent and experience.
Therefore, the final step is to use these words in context with your experience. So now I might write my work history like this (I'll bold the keywords so you can follow along):
Eight years editorial experience
Experience with managing writing projects
Worked closely to source both internal and external editorial content,
Etc.…
*Note* While the cloud generator is a great way for you to wrap your mind around the important keywords, definitely also refer back to the original job description as you formulate your experience. The cloud app may pull some words out of context. In this example, the app separated "internal" from "external," but the job description asks for those two keywords to be together as in "internal and external editorial content."
What matters to the ATS is that the keywords and phrases in your resume correspond to the job ad. The system will rank your resume based on how closely your keywords match the job description. (Check out this article for more information on beating applicant tracking systems.)
But what matters to human recruiters is that your experience aligns with their needs. You can't just write keywords in a vacuum. Instead, you must write them in a way that shows the recruiter how your experience is relevant to the position and how you can solve the company's needs. If you are unsure about your phrasing, a professional resume editor can help you get past this hurdle.
Resume Tricks #3: Clean Up Your Online Reputation
When you are using the Internet to apply for work, chances are your employer is pretty savvy when it comes to using online tools to check applicants' backgrounds.
Before you apply for your next position, run a Google search on your name and see if there is anything out there that you don't want your prospective employer to find. This could include information that you've posted on your social or professional profiles, participation in certain groups or affiliations, unwanted media attention, or other issues.
You can be sure that if you make it past the first round of resume reviews, your potential employer will likely run a Google search on your name just to see what else they can find out about you. If you are applying for a sensitive position, such as one in education or government, you'll definitely want to make sure that those college pictures of you partying with your friends aren't showing up front and center in a Google search.
Which reminds me—don't just do a text search of your name, do a Google image search too!
If you run a Google search and find that viral video you and your friends made during your "emo" phase in high school, there are services that can help you "bury" this information. I found BrandYourself.com, a service that helps you promote good online information about you and bury bad information (after all, who really looks past page three of a Google search anyway?)
The service has some free tools you can use, but if you really need help burying a lot of troublesome information, you can upgrade your account and even work with a real life reputation manager. Here's a screenshot that shows a little bit about how BrandYourself.com works.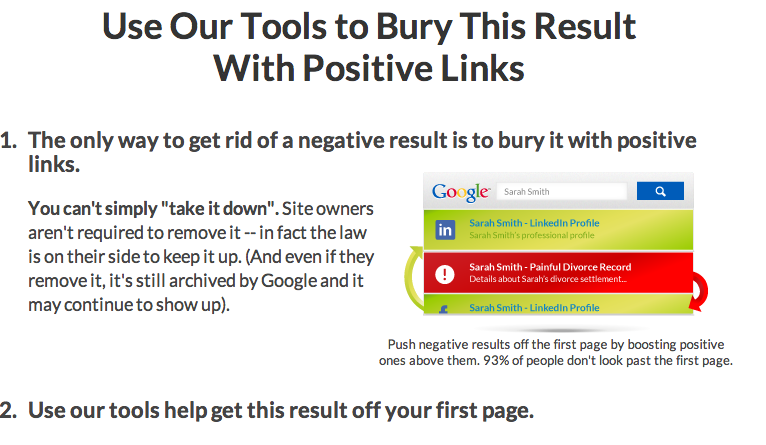 While you're managing your online reputation, don't just clean up the negatives, but also promote the positives. Add more information to your LinkedIn profile, including any interests and experiences that align with your career objectives.
For example, if you are looking to gain a director position at the local animal shelter, make sure to add your experience with volunteering for animal shelters to your LinkedIn profile.

Another way to add positive information to your online reputation is to start a well-conceived blog that addresses a topic in your industry. Are you trying to become a financial advisor? Blog about your best financial advice.
Your resume goes beyond the information you share on a piece of 8.5 x 11 inch paper—your entire online presence is your resume. (Tweet This)
Resume Tricks #4: Make a Visual Resume
While traditional industries may rely on the standard resume format, more creative industries such as advertising and graphic design might get a kick out of an innovative and visual resume format.
Visualize.me takes your LinkedIn profile and turns it into a visual resume (or Viz, as they call it). Here is a snapshot from a portion of mine: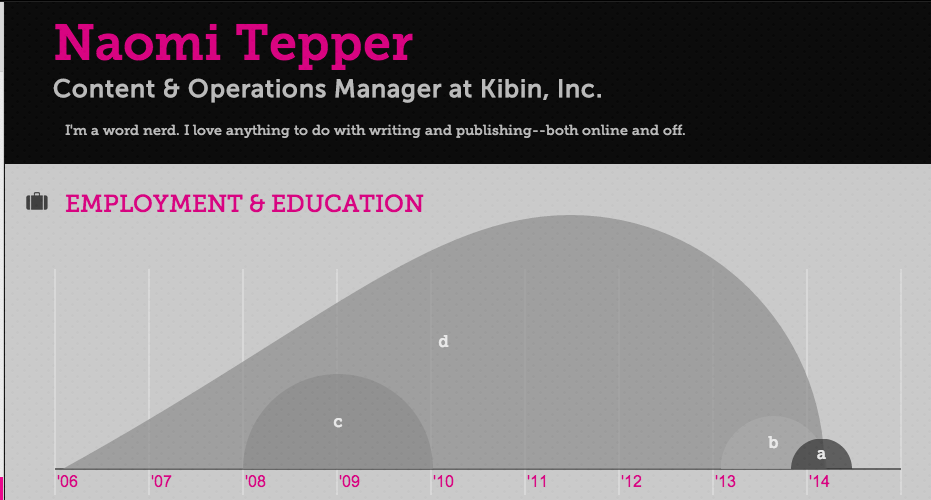 Once you have created your visual resume you can share it through social media, on your website, or by including links in your standard resume or cover letter that you send to potential employers.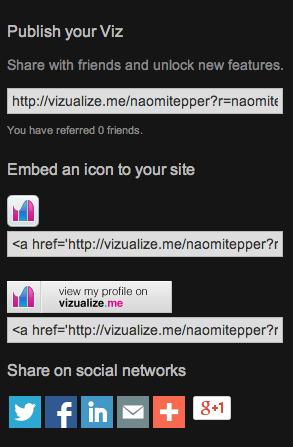 This reminds me, don't be afraid to use links in your online resume and cover letter. Unless you are applying for a position in academia, your resume should be no longer than two pages (and only one page, if you are early in your career). If you are a good way into your career, you may have a lot of valuable information that you want to share with your potential employer. The benefit of an online resume is that your links are clickable.
Instead of making your resume 10-point font with no margins so that you can cram all of your awesome experience in under a page, use targeted links. Connect your resume to your LinkedIn profile, your visual resume, and your online portfolio of writing, art, or web design projects for a more robust presentation.
Is your resume really ready?
Get expert feedback & corrections, 24/7.
Online presentations are another creative resume format you might consider. Prezi.com specializes in turning your resume into a presentation. Here is an example of a Prezi resume in action. (Check out this post on 11 creative resumes that have gone viral.)
Of course, before springing a creative resume format on your potential employer, do some research to be sure that the culture of the company is one where a little creativity will go a long way.
Now you know how to get your resume to stand out online. Using these four resume tricks will help your resume stay ahead of the pack and avoid technological pitfalls. If you need more help, read 7 Great Ways to Get Your Resume Noticed.
Tell me in the comments: what are some things you have done to successfully get your resume to stand out online?
Good luck!
*cover image image by Yowan2008 (Creative Commons License)