With thousands of users and a community proofreading over a thousand essays, resumes, short stories, and other written content each month, it's almost unfathomable that it has only been a year since we dedicated ourselves to Kibin full-time. And it has been an incredible twelve months; hands down the most exciting, emotionally volatile, potential filled, draining, and overall best ones of my life. I have previously outlined much of Kibin's journey in my personal blog here. However, it has been a long time since I've been able to take a step back and reflect on where we've come and how we got here. Following is a summary of our past year. I hope you enjoy it.
The Beginning: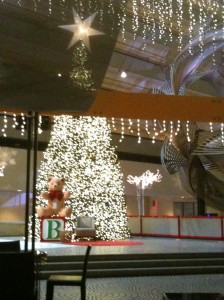 With little more than half finished & extremely rough code, a vague idea for the site's design, and something to call it, we truly had no idea what the future would hold. Jim and I left our stable, corporate jobs to embark on a new journey: Kibin. We had been meeting weekly for months before taking the plunge, knowing we wanted to build an online network centered around proofreading written content that could stand independent from Microsoft Word's Track Changes. We also knew it wasn't going to be easy. With no dedicated office space, we would meet frequently in the lobby of San Francisco's Hyatt Regency near the Embarcadero.
It was nearly four months of coding, planning, testing, coding, planning, and testing some more before we finally went live with a (somewhat) functional product. Kibin officially made its debut in late March, 2011. It was nothing like the Kibin today. The homepage was rather bare. There was no community, professional editors or profiles, and nearly zero activity. The user dashboard was clunky and difficult to navigate while the editing application was so difficult to understand and utilize that Travis was probably the only one able to operate it.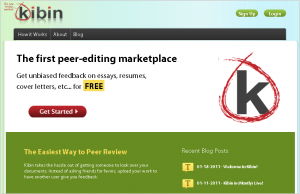 We ran a Google AdWords campaign as our sole method of attracting users. We can distinctly recall becoming quite excited when we would sign up more than five users in one day. It felt incredibly rewarding. But there was an insane amount of work to be done. Little, if anything, worked the way it was planned. On top of that, we were still unsure of how the site and service would operate. As just one example, we didn't even have a quality check for completed reviews in these early days. Our hope was that people would put an honest amount of effort into other users' content. This wasn't the case. We had also hoped to build a large community before introducing any paid editing options, but ultimately ended up integrating this much sooner. We eventually started finding our way through the dark and soon had good reason to finally incorporate the business.
Progress:
It was early April when we took our first outside investment from a close friend. Although just $20,000, the funds came at a vital time. We were monetarily strapped and extremely stressed out. While the money didn't allow us salaries, it was nice to let our personal finances breathe a bit.
However, it turned out we really wouldn't need the money as bad as we had anticipated. We applied for a spot in a prestigious accelerator program. Accelerators are basically structured start-up bootcamps that strive to push you, your team, and product harder and further than thought possible. After much anticipation, we were extremely excited to be a part of the four month long Summer program at 500Startups. Along with acceptance came $50k to add to the coffers.
Things started happening… fast! We literally made more progress in the next 4 months than I could have ever imagined. Our first order of business was giving the entire site a much needed face-lift. This process wasn't just cosmetic, but focused on the usability and navigation so our users could easily find their way through the site. We improved user engagement dramatically and the feedback was great.
We also added the ability for users to purchase points. It may sound funny, and certainly seems so now, but even though users could purchase their reviews, they weren't able to purchase points by themselves. The old Kibin operated on a per-review basis where users would purchase the review and not be able to apply points directly to it. This all changed in July. We allowed purchasing of points as needed and users could apply them as deemed fit, giving much greater flexibility with their preferred turn-around times. This was a big step forward as we moved to a much more versatile marketplace system.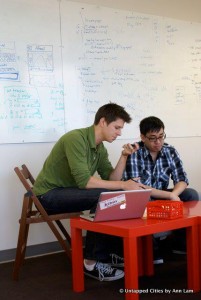 August became extremely busy, but we still managed to push forward with our Professional Editors service. It had always been part of our vision to allow our best reviewers to prove themselves in our community and then offer their services directly to our users. It continues to be a large part of our focus and strategy today, and we expect ever increasing demand for this aspect of our site.
But with August came something even more stressful: Demo Day, the day (or rather two days) where we would present our company to a room full of investors in hopes of raising some more funds. It was a crazy month filled with press inquiries and write-ups. Our site went down for half a day as we were forced to upgrade our servers to deal with the influx of interest. We received write-ups in LifeHacker and TechCrunch as well as an interview for EDUKWEST. While all the attention and recognition was nice, we knew we had to get back to work. Companies aren't built on hype.
We raised a little more money, but focused more on continuing to improve the product for both our editors and content creators. We introduced monthly Kibin plans so that frequent users could benefit from deeply discounted points and continued adding new professional editors. We also added a better rating system and monthly leader board to benefit our editors. We continue to grow our user-base while improving our technology and product offerings. It's an exciting time for us at Kibin and we're looking forward to the new year.
New in 2012:
2012 will no doubt be another incredible year for Kibin. Looking back on how we've gone from literally nothing to what we have today in just twelve months makes us realize that it is almost pointless to speculate where we will be twelve more from now. But we do know a few things for certain:
We're currently working on a strategic partnership that would greatly increase the demand for our Professional Editors' offering. Our vision has always been to be able to keep our Pro Editors as busy as they'd like to be with new paid requests. That hasn't changed.
Our proofreading application and technology is also something we're constantly working to improve. We have always maintained that a true online proofreading network cannot exist without an easy to use proofreading application at its core. We still believe this, and we still believe we have a lot we can improve on here. While we feel we've taken a pretty good first stab at it, 2012 will bring a much more user friendly, powerful, and robust proofreading application.
We also plan to make some key hires that will allow us to push Kibin to the next level. There are a myriad number of small features and large projects we want to incorporate and tackle. We simply lack the resources at this time.
Looking back on it all, we can honestly say we've built an incredible initial product. We're reminded every day that we've already built something special whether it's a user sending a 'Thank you' to their editor, or a random email from a pro-editor offering feedback on the product. It's the little things that get Team Kibin through each tough day and it has already been an incredible, humbling journey.
Thank you to all our users for an amazing year. Here's to an even better 2012!
All the best,
Travis & Jim