Going back to school after 30 can be a tough decision to make. Long gone are the days when anything and everything in the world was possible and your free time seemed endless. Now you likely have a long list of real responsibilities, such as kids, a mortgage, a spouse, and a mountain of bills to pay.
For these reasons and many more, going back to school is a decision that can't be taken lightly.
In my last post, Is Going Back to School at 30 the Right Decision For You?, I addressed how to decide whether or not you should go back to school and how to decide what you should study.
This post will cover how to pay for college and how to balance your work-life responsibilities as an adult student.
Ask Yourself: How Are You Going to Pay for College?
One of the reasons that going back to school is such a big decision is because it's an expensive proposition. Unless you're independently wealthy and going back to school just for the fun of it, you're going to have to get creative with your funding sources to pay for college.
According to the National Center for Education Statistics, the average tuition and fees for the 2012-2013 school year were as follows:
Public Institutions (i.e. state colleges like the University of Colorado or California)

$7,500/year, in-state. A four-year degree will cost approximately $30k.
$17,000/year, out-of-state. A four-year degree will cost approximately $68k.
Private Institutions (i.e. College America or The Art Institute)

$15,400/year. A four-year degree will cost approximately $61k.
Also, note that these rates tend to increase year after year.
When you are coming up with tens of thousands of dollars to fund something, you might want to ask:
Is there any way you can minimize your debt?
When considering how to pay for college, it may be tempting to take out your entire tuition in the form of easy-to-get loans. However, there are ways to make the final amount you pay out of pocket smaller—possibly much smaller.
First, look for scholarships.
I've heard many adult students complain, "There aren't a lot of scholarships out there." The truth is that there is a whole boatload of them—you just have to know where to look.
The obvious choice is to talk to your financial aid office at school about scholarship opportunities. But this isn't your only resource.
On the Internet, the world of scholarships is at your fingertips.
First, I suggest that you visit the U.S. Department of Labor's scholarship search tool. This will lead you to some pretty helpful scholarship options. Here's a screenshot of the tool: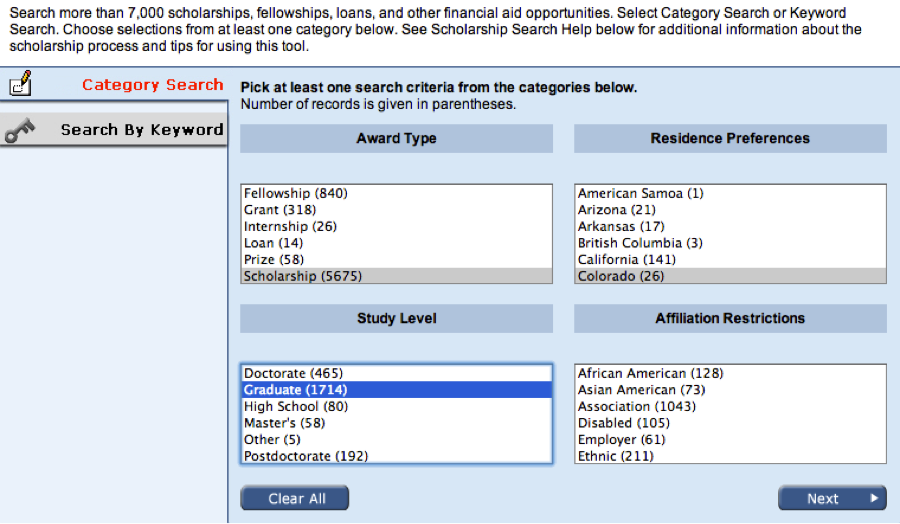 But, if you want to cast your scholarship net even wider, consider joining one of the many free "college decision" websites. I've tried a few, but my favorite is Cappex.com. Cappex and similar services like SuperCollege.com and College Niche offer databases of university and scholarship information.
In fact, it was through Cappex that I found the following unusual scholarship opportunities:
Author Linda Lael Miller offers a scholarship worth up to $1,000 to women who are 25 years or older and are seeking to enhance their family's future through education.
Although the scholarship may not be currently open, I spoke to Linda's PR person, Nancy Berland, who says, "Linda will run her scholarship competition again—this is something like the 11th or 12th year she has done this. Usually we launch in June. Women need to either join Linda's reader e-list on www.LindaLaelMiller.com—she sends early notification to that list—or keep an eye on her website. Linda is passionate about helping women looking to better their lot in life through education!"
Another fun scholarship I found was the Ayn Rand Atlas Shrugged contest, open to undergrad and grad students. Writing 800-1600 words can win you up to $10,000. This is an annually recurring scholarship, and you can apply even while you are in school.
Remember to have your scholarship essay edited before you submit it!
There are many more opportunities like this one. For more ideas, check out this post on no-essay scholarships that are easy to apply for.
Scholarships aren't the only way to minimize your student loan debt.
If your income is low enough, you may also be eligible for grants.
When thinking about how to pay for college, don't forget the power of grants. Grants are completely free money! No essay, no work—you just have to have a low enough income to qualify. Here is a great tool to help you search for grant assistance on a state-by-state basis.
And if scholarships and grants aren't enough, as an adult student, you may have a resource that a traditional student won't have: your employer.
Will your workplace help pay for your tuition?
Your current employer is another great place for you to seek money for your education. Obviously this choice isn't for everyone, particularly if you are going to school to get out of your current job or because you don't have a job.
However, if your new skills will benefit the company you currently work for, it may help you pay. Even if you work in a small company that doesn't have an existing education assistance program, you should still ask your boss if the company could offer education assistance.
One reason your boss may be interested in helping fund your education is that there are income tax benefits to be gained by doing so. Your employer can donate up to $5,250 per year in funds toward your education on a tax-free basis.
And speaking of tax credits, if and when you do go back to school, don't forget to take advantage of the tax breaks being a student gives you, including the American Opportunity Tax Credit and the Lifetime Learning Tax Credit.
Now the next credit you should consider has nothing to do with taxes, and everything to do with your experiences.
Does your school have a non-traditional credit program?
When you're trying to figure out how to pay for college, don't underestimate the power of your experience. One of the benefits of going back to school as an adult is that some institutions will allow you to earn credit for your real-life experience.
For example, if you speak Spanish because you spent a year teaching English in Ecuador, you can test out of language classes, or if you spent a few years in the Army, your military service can equate to credits at some institutions.
By earning credits toward graduation without having to take or pay for some of the classes, you can save hundreds, or thousands, of dollars. Check with your school to see if any of your real-life experiences translate to credit.
Speaking of credit, you should put your credit card away for a while and…
Save up some money.
I know, saving money before spending it seems like a pretty antiquated idea in our credit-friendly economy, but it might do you well to save up some bankroll before signing up for school.
Try working a second job for a year or two and using the extra money you make to cover part of your tuition. The bonus of this pull-yourself-up-by-your-bootstraps tactic is that you'll learn a little bit about the time management you'll need to master when your second job becomes going to school.
If all of that isn't enough, apply for a federal student loan.
The first thing you need to do when applying for a federal loan is to fill out the FAFSA (Free Application for Federal Student Aid). No matter how old you are, you are always eligible to apply for federal student aid. Filling out the FAFSA also helps you obtain federal grants if you have a low income.
Federal loans are typically a better buy than private loans (like from your bank) because you lock in a fixed interest rate, and with payoff schedules lasting ten or more years, keeping that rate fixed will save you interest in the long run.
This article at Forbes.com has great information about federal vs. private loans.
If you do end up taking out a loan, I definitely recommend you read how to avoid four mistakes when it comes to managing your student loan.
Now that I've given you some ideas for funding your education adventure, let's talk about time management.
Ask Yourself: How Are You Going to Balance School With Your Other Responsibilities?
When you were 20, your biggest responsibility may have been the part-time job at the sandwich shop. But now, you're all grown up and have a pile of responsibilities bigger than the laundry pile lurking next to your washing machine.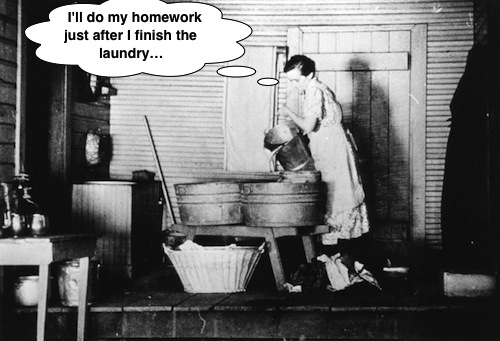 If you have kids, who will care for them while you are studying and in class? Even if your kids are teenagers, the time you spend burying your nose in your math textbook is going to take away from the time you can spend telling them what not to wear to school.
So consider how you're going to balance this responsibility. Many parents use going back to school as a way to be a better role model. For example, you can do your homework at the same time your child does his. A family that does homework together stays together!
If you are in a committed relationship, talk to your partner about how schooling will affect your availability and make sure that he or she is on board with the idea. You're going to need your partner's support and encouragement in the grueling, homework-filled nights ahead.
Will you be able to continue to work full-time? Or will you have to cut back your work hours to make time for studying? Find out if your employer will offer you flexible hours so that you have more time to pursue your studies.
If that's not an option, you may need to take school a little more slowly and attend part-time. Also, take into consideration that for every three credits hours you'll have at least three hours of homework per week.
As you are considering how much responsibility to take on, remember that there are only 168 hours in a week and you still need time to sleep, shower, eat, and take care of yourself and your loved ones!
Here's a fun calculation for you:
168 hours in a week
-49 hours for sleep (7 hours/night—but wouldn't you prefer 8?)
-40 hours full-time work
-10 hours commuting (assuming a half hour each way/5 days per week)
-9 hours class time (3 classes per week as a part-time, but ambitious, student)
-9 hours of homework (at minimum! Plan for more on testing weeks.)
51 hours per week remaining to take care of yourself, your home, partner, friends, family, and pets
This may seem like a lot of time, but consider that before you started school, you had 69 hours to work with, and you already felt like you could hardly keep up.
Now imagine if you upped that to a full-time schedule of 15 hours of class time (and 15 corresponding hours of homework)—it would only leave you with 39 hours per week to take care of your life outside of work and school.
For more great tips, read Amy Hoak's article about balancing school with work and family.
How are you going to get all that homework done?
Once you get into school, you'll rediscover the harsh reality of homework. You're certainly going to be burning the midnight oil (or is it the midnight laptop glare?) to stay on top of your studies.
Try to plan ahead to tackle any learning issues that you know may be lurking in your background. For example, if you have never been a great writer, consider the value of hiring an editor to help you polish your papers before you turn them in. Now is not the time to lose points on your GPA because of difficulties with grammar.
Or, if you have never been great at math, but find that you have to take a math class to earn the right credits toward your degree, consider the value of hiring a tutor to assist you. If you're not sure where to look, there are lots of online tutor directories like this one.

The other thing you should consider is joining a study group at school to help capitalize on other students' assets and contribute your own strengths. Sometimes having a study buddy makes a big difference in motivation levels.
Finally, I had a chance to chat with two students over 30 to find out how they manage to balance their work and family lives with school and homework. Here's what they had to say.
Interview #1: Meet Holly
Holly is a recent 40+ grad. Here's her story.
Me: Hi Holly, thanks for chatting with me today!
Holly: No problem! Thanks for having me.
Me: First of all, how old are you? Yes, your real age.
Holly: I'm 41.
Me: And where did you attend school?
Holly: I just received my Bachelor's Degree in Human Services Management from the University of Phoenix.
Me: Phoenix, Arizona?
Holly: (Laughing) Everyone says that! No, it's actually a private college in Colorado.
Me: Oh yeah, I've heard of that place! Aside from school, what other responsibilities did you have to juggle?
Holly: I am a single parent of one, and I have three cats, five hermit crabs, and tons of housework.
Me: I'm sure those hermit crabs kept you really busy.
Holly: Ha! Yeah, busier than you might think, actually!
Me: So between the cats, the crustaceans, and your daughter, how did you manage to get any schoolwork done?
Holly: I actually am very good at time management and it was common for me to ask for help from both my daughter and friends.
Me: Is that your secret to success? Asking for help?
Holly: That's part of it. Also, I studied when I knew I would be home alone and I only did homework when I was free of distraction. Studying or working on a project any other time was a waste of my time.
Me: You do sound like a time management expert! Why did you decide to go back to school anyway?
Holly: I went back to school because I knew it would play a role in my daughter's educational goals and desire to be a success.
Me: So you did it to be a good role model?
Holly: Yes, and I wanted to be educated so that I could work with high-risk teens, educating the public about addiction and the effects of addiction. My education provided a foundation for me to pursue this dream.
Me: Any stellar advice for someone considering going back to school after age 30?
Holly: My advice is to get an education! The reward of achieving goals is substantial.
Interview # 2: Meet Antonia
Antonia just started her journey toward earning a degree as a 37-year-old single mom of twin girls. Here's her story.
Me: Hi Antonia, thanks for taking the time out of your crazy busy schedule to chat today.
Antonia: Not a problem! This is a nice distraction.
Me: So, where are you attending school?
Antonia: I'm going to Front Range Community College for an Associate degree in Applied Science of Holistic Health.
Me: That sounds like an interesting program! What do you plan to do with that degree?
Antonia: As in career goals? Huh, I haven't really settled on one specific thing yet. I know I love herbal science, so maybe being a master herbalist. But, what if I love psychology more and I end up changing my degree to focus more on that? I've left the options open. I want to move forward in my studies and see which subject really speaks to me. I think that'll help really finalize my decision in the end.
Me: Describe your family and home situation; what's on your plate?
Antonia: I'm a single mama of beautiful and expressive 11-year-old twin girls. For the past four years, I've been self-employed cleaning homes. The furry love of my life is an old Shiba Inu that I rescued over a year ago. She has diabetes and is hypo-thyroid. She needs insulin injections and thyroid pills twice a day. She's my four-legged, crotchety old lady that I love so much.
Me: You do sound busy! Twin girls and an old lady doggy? How do you manage all that and school?
Antonia: Well, I started out with only 6 credits so that I wouldn't overwhelm myself. I have one class every morning, I work after class and am finished by the time school gets out. My girls are also very helpful around the house. We have our daily chores so that I'm not bogged down with all of the work, all the while teaching the girls responsibility.
Me: So how are you staying organized and making sure to get all your school work done on time?
Antonia: Since I have only two classes right now, it's easy to alternate the work. I have one class M, W, F and the other class on T and TH. I study or do the work that's due the following day even though it's not the class I attended that morning. It's working out very well thus far.
Me: That sounds pretty smart! So you're doing only as much as you can sanely handle.
Antonia: I don't know about sanely… (laughs)
Me: Why did you decide to go to school? It sounds like you are a pretty successful business owner.
Antonia: I'm going back to school because I am sick of cleaning other people's homes. I'm grateful I have a job in this economy for sure but, frankly, I'm just not very proud of what I do. I know I'm helping people out by cleaning for them. But, I want to help people in different ways. I want to use my brain. The most important reason, however, is I want a better future for my girls and me. I'm hoping my girls will look back and realize that I didn't settle for the easy way out. I can only hope that by witnessing me work hard to improve our lives, it will motivate them to work just as hard on their education and make better choices when it comes to their future.
Me: I'm sure you're an amazing role model for those girls! Do you have any parting thoughts for anyone considering going back to school after 30?
Antonia: I say go for it. As long as you're motivated, you have a strong support system of family and friends and the desire to change your life for the better, do it. Knowledge is power!
So now that you've asked yourself the tough questions, I challenge you to take the next step toward pursuing your dream, whether that's going back to school or doing something else entirely.
Share your experience with us—did you go back to school after 30? If so, what advice can you offer to others who may be considering going down this road?
Good luck!