The personal essay, it's an easy enough essay to write… right?
We all have stories to tell and opinions on just about everything.
The million dollar question is, how do you take your thoughts, ideas, and opinions and put them on paper? How do you let your personality shine through and create a concise, yet meaningful essay?
Good question.
Before we dive into the answer and look at personal essay examples, let's do a quick review of what exactly a personal essay is since there's a few different ways to approach one. Ready?
Let's Get Personal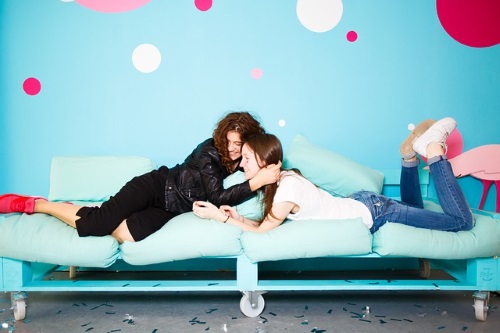 Okay, not that personal, but let's talk about the nuts and bolts of a personal essay.
Personal essays usually follow two patterns: the personal narrative essay or the personal opinion essay.
When you write a personal narrative essay, you're essentially telling a story about yourself. The essay also usually includes a moral or a lesson.
The personal opinion essay is pretty much like it sounds. It offers your opinion on a given subject or topic.
No matter what type of personal essay you write, remember these three tips:
The tone and language of a personal essay is often less formal than standard academic essays.
Personal essays share opinions about an experience, a topic, or an issue.
Like most essays, personal essays should start with a strong hook and grab (and hold) a reader's attention.
And most importantly, your essay doesn't have to be boring. Here are two personal essay examples with awesome personality that will show you how it's done!
2 Personal Essay Examples with Awesome Personality
To help you get a better sense of what a well-written personal essay looks like, I've included two examples below. I've also made comments on both to help you see what each writer has done well and what the writer might do to improve the essay.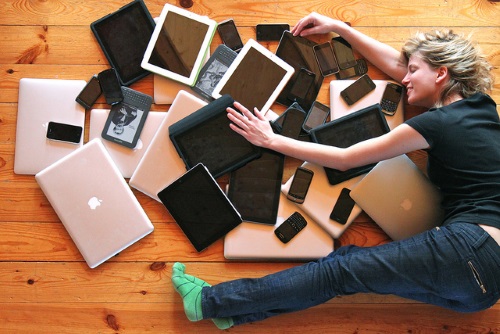 *Click images below to enlarge.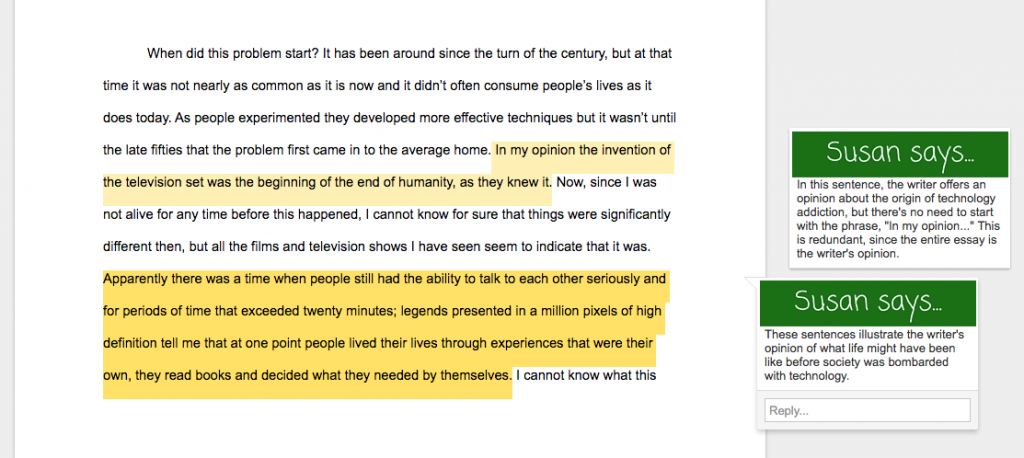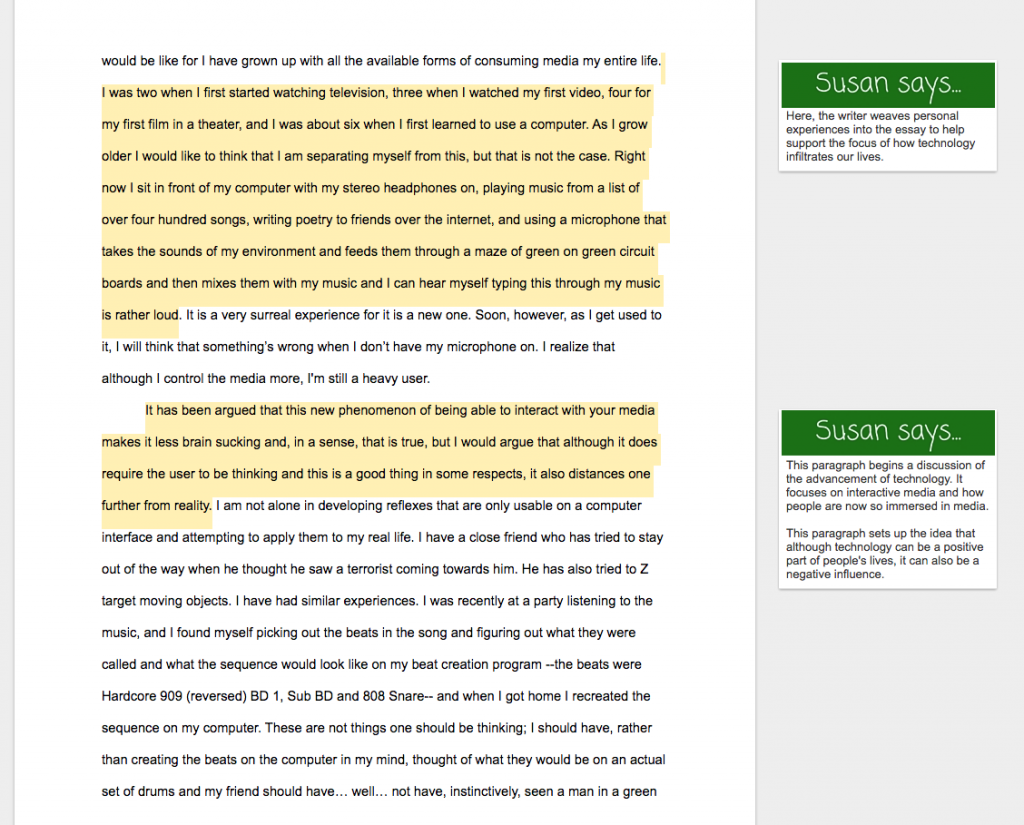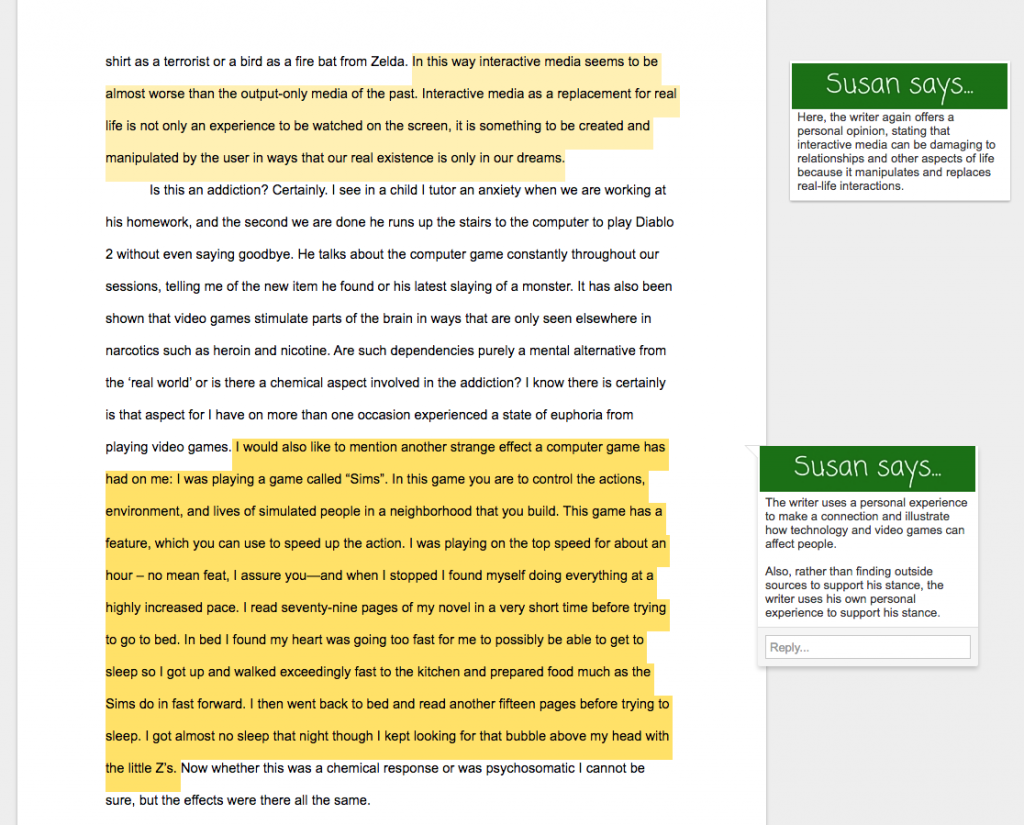 Need some additional guidance on a personal narrative essay? Read How to Write a Narrative Essay That Stands Out.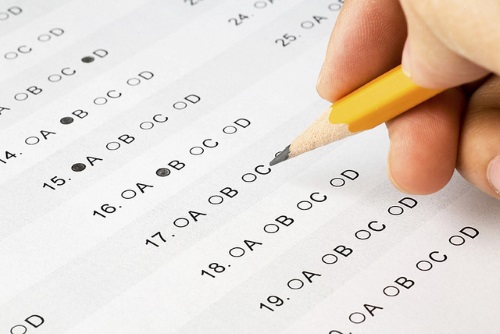 *Click images below to enlarge.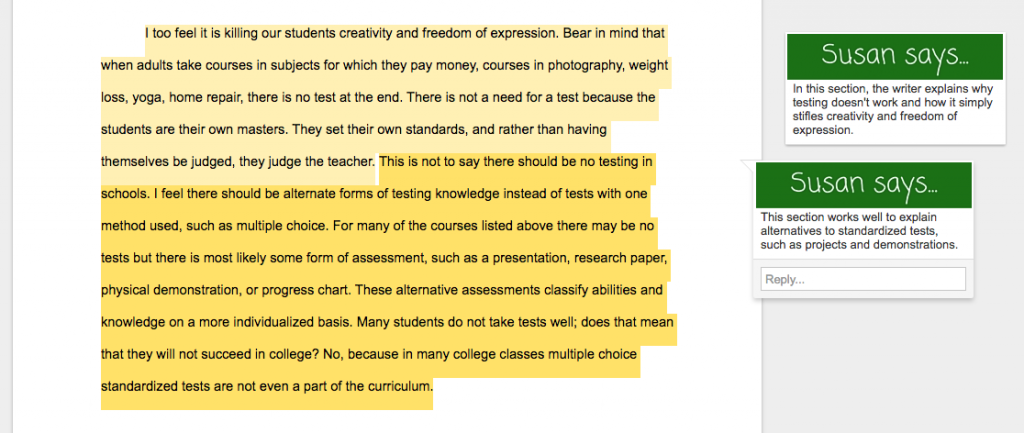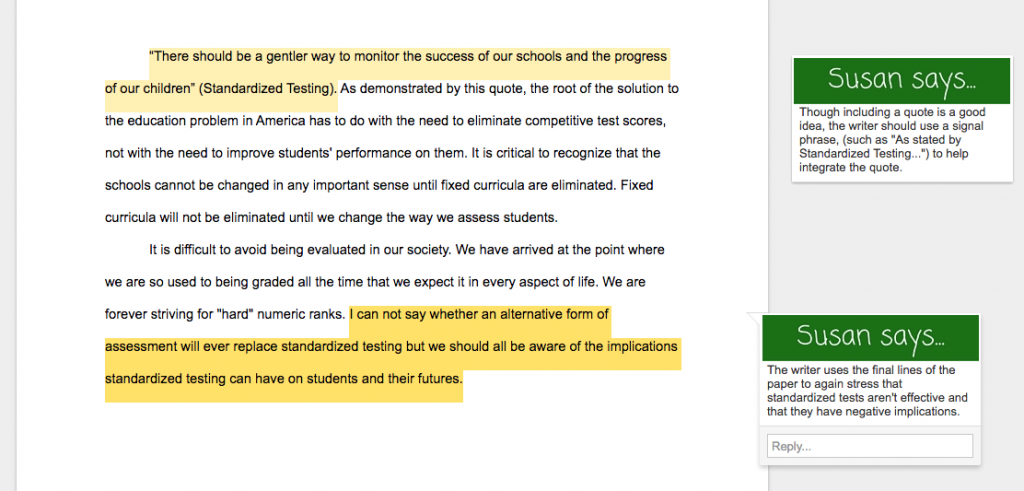 Struggling to get started on a personal opinion essay? Read The Opinion Essay: Everything You Need to Know to Make Yours Good.
Final Thoughts
Now that you've got a few good personal essay examples to inspire you, you're ready to write your own. But there's a few final things you should keep in mind.
Even though a personal essay means that you're sharing a personal story or your opinion about a topic or subject, it doesn't give you license to simply write without prewriting, outlining, or revising.
Remember, you only have a few pages to tell your story, so don't spend the first few paragraphs rambling about stuff that doesn't matter. Keep your sentences focused.
Ever start telling a story and have your friends say, "Yeah, yeah, so get to the point already"? That's the stuff you want to cut from your story. Stick with only the good stuff and eliminate the details that don't make your writing interesting and engaging.
Want help deciding what you should keep and what you should cut? Have a Kibin editor help!