Research Paper: Two words that strike fear into the hearts of many students. Four syllables that create panic, dread, and anxiety.
But they don't have to.
Writing a research paper takes time and requires effort, but if you have a good topic and credible sources, you're on your way to a great paper.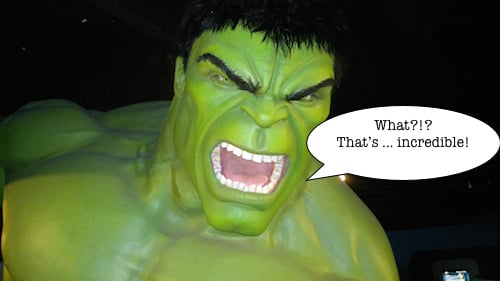 Wait…what? Credible sources?
Yes, credible.
Are you thinking, "What's the difference? Isn't one source just as good as another?"
No. Not all sources are created equal.
Think about it. If you want to learn about the current texting and driving laws, would you rather learn about the laws by reading some random guy's blog who does nothing but rant about the law because he just got a ticket for texting and driving, or would you rather research the law by reading a .gov (government) website?
I think we'd both pick the .gov site.
But .gov sites aren't the only place to find online credible resources.
Keep reading to learn the 5 best resources to help with writing a research paper.
Why You Should Use Credible Sources When Writing a Research Paper
A research paper is like a jury trial. If you're an attorney trying to convince the jury your client is innocent, you need hard evidence.
Try convincing a jury that your client is innocent by telling them he wasn't at the crime scene, and you can prove it because his best friend said he wasn't there.
It isn't going to work.
Now try convincing the jury that your client is innocent because he was out of town when the crime happened. You have a hotel receipt, plane tickets, and video evidence that he was nowhere near the area at the time of the crime.
This is much more credible and convincing evidence.
When you're writing a research paper, your arguments are on trial. Your job is to convince your readers and demonstrate your knowledge of the subject.
To do this, you need credible sources written by credible authors such as doctors, researchers, and scholars.
You don't want to use questionable articles written by the girl who works at the pizza joint down the street or by your best friend's cousin's uncle who says he knows a lot about whatever you're writing about.
Let's talk about some other sources that won't help you make your point.
Sources You Shouldn't Use

The Dictionary: Don't start your paper with something like, "According to the dictionary, crazy means mentally deranged." Readers already know what crazy means. There's no need to define it.
If you're using complex terms that readers might not be familiar with, it's fine to define words, but use a more specialized definition from a journal or other credible source.
A dictionary is great for looking up the meanings of words, but your professors won't consider the dictionary a scholarly source, so it's best to avoid using it as a source in your research essays.

About.com: About.com is a fine website. It has lots of useful information like fresh ideas to decorate your bathroom, the best new hairstyles, and 10 places to see before you die.
While reading about this stuff can be fun, it's not relevant information for a research paper. These articles are written by people who are passionate about their subject, but the writers aren't necessarily experts.

Wikipedia.com: Wikipedia is a fine website, too. It has lots of cool information about lots of cool topics.
The problem with Wikipedia (and other Wikis) is that anyone can write them.
You could create a Wiki about how Steven Spielberg was the first president of the United States. Someone else could read your Wiki online and write a research paper about Spielberg as president.
You could fall victim to this too, and write a research paper using incorrect information. Did you know that at one point, Wikipedia listed the soccer star David Beckham as an 18th century Chinese goalkeeper? Imagine writing that in your paper! I don't think you'd earn the "A" you were hoping for.
Because you can't be sure that the information is accurate, it's best to stay away from Wikipedia.
But if you shouldn't use the websites I've just listed, what resources should you use? Keep reading to find out!
5 Best Resources to Help with Writing a Research Paper

Your school's library

1. Your School's Library: This is the best place to begin your research.
The library at your school is an academic library, meaning you'll find more academic books, journals, and scholarly sources than you will novels and magazines.
One of the best things about researching at your school's online library is that if you don't want to leave the comfort of your living room or your dorm room to research, you don't have to.
As long as you have your library card, you can login and access tons of great resources, such as online databases, e-books, and other research articles.
Don't tell me you forgot to sign up for your library card! Don't tell me your paper is due tonight and there's no time to get a library card now!
Okay, take a deep breath. Don't panic. There's still hope.
Even if you don't have immediate access to your school's library, I've included four other useful resources that are free and don't require a library card.

2. Google Scholar is a lot like the Google search engine you're probably used to.
You simply type in what you're looking for, and you'll see a list of results. The difference with Google Scholar is that your list of results won't contain websites trying to sell you a cell phone or articles about how to dress your dog for the holidays.
Google Scholar will produce a list of journal articles, .pdfs, and websites focusing on much more credible and scholarly sources appropriate for a research paper.
(You know, stuff you can actually use!)

3. RefSeek This resource is a search engine designed for students and researchers. It searches online sources but produces more scholarly sites than a standard search engine, such as Google.
One of the great features of RefSeek is that it allows you to search specifically for documents, giving you a better chance of finding credible information to help write your research paper.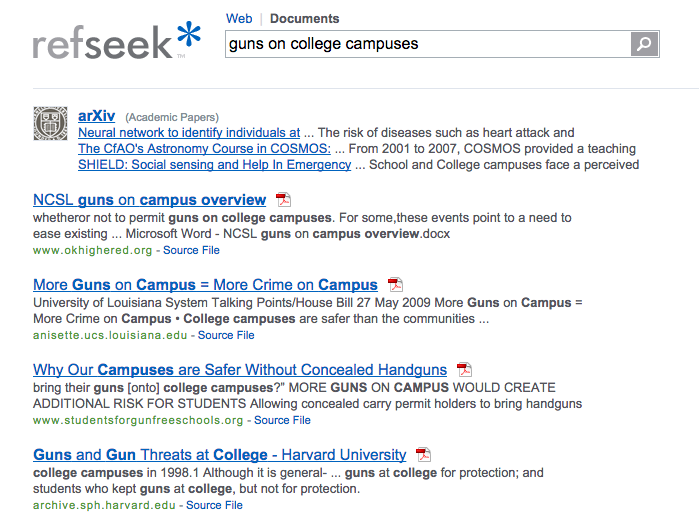 4. Internet Public Library (ipl2) This resource allows you to search by subject.
It links to websites, rather than scholarly journals; however, it often links to more credible .gov or .org sites (although you may encounter a few broken links.)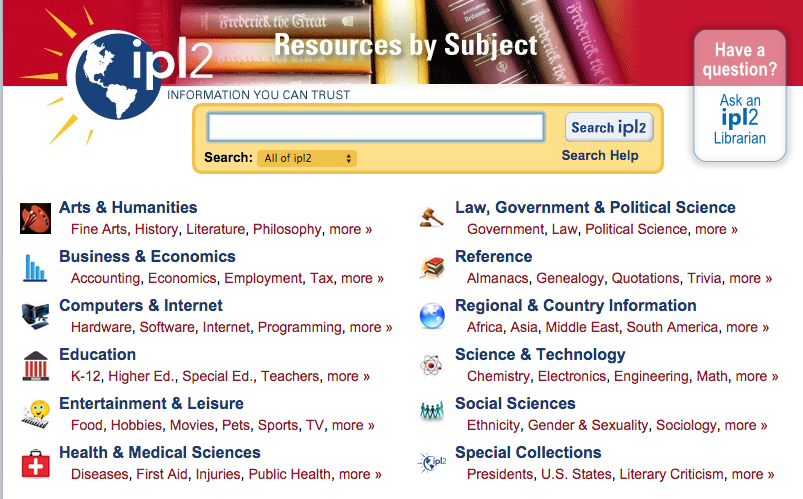 You can also use the handy "Ask an ipl2 Librarian" service. If you aren't in a rush, you can submit a question to the site's volunteer librarians, and a professional librarian or grad student will be in touch to help you find the best resources for your topic.
The site says, "Once we have accepted your question, we do our best to answer it promptly. You will receive an answer from us within one week. If you indicate you need a response more quickly, we will try to answer it by that date.
"ipl2 is not a good place to come if you need help right away. We are not a 'real-time' service, and it takes us time to read, research, and respond to questions." Read more here.

5. ERIC (Education Resources Information Center): This database primarily focuses on education, but it also includes a number of related topics, such as social work, psychology, and other social issues. A search will provide a list of journal articles (most full-text).
Searching for Sources in ERIC
If you're searching for sources in most basic search engines, such as Google Scholar, you usually just type in your keywords and read a list of results. Databases, though, are a bit different. They include the standard search box, but they also include a variety of other options to help narrow your results. Because the searching can be more complex, I've included information below to help you get started.
Here's a quick tutorial to help you begin searching on ERIC.
Step 1: Type in your keywords. In this example, I've chosen guns on college campuses.
Make sure you check the box to show only those results available in full text.
Searching for full text articles means you'll be able to read the entire article immediately. You won't have to worry about tracking it down at some library across the country, and you won't have to pay $19.99 to purchase an article you don't even know if you want to use yet!
Step 2: Review the search results.
If you are looking for articles written during a specific time frame, check out the left column (Publication Date).
If you want to read a summary (also known as an abstract) click on the title of the article. (Article titles are hyperlinked in blue in the middle of the screen.)
If you want to read the article immediately, click on the full text option at the right of your screen. (Articles are usually provided in .pdf format.)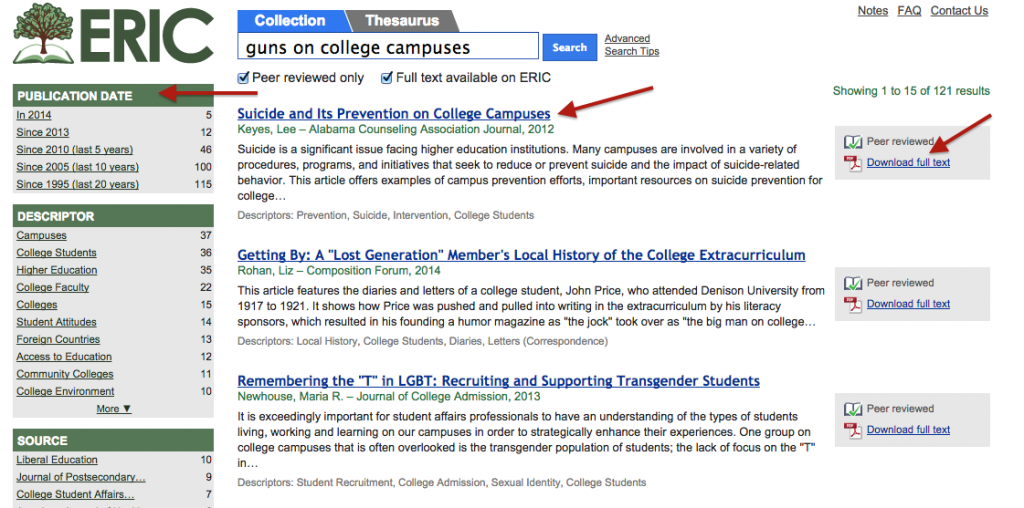 It Really is that Simple
As you can see, there's no reason to be panic-stricken about writing a research paper.
Use the resources in this post to help you find the most credible and useful sources, and you'll be on your way to writing an amazing paper.
Once you find the perfect sources, you'll still need to actually write the paper, so review Writing a Library-Based Research Paper and Research Paper Steps for help with putting together your essay.
Have you finished writing a research paper, but still need someone to review it? Contact our Kibin editors for help!