Remember when you were a kid and each time you went to the store with your mom you asked her for a new toy? When she answered "no," I'm sure you asked, "why not?"
Her reply: "Because I said so."
This may have worked for your mom, but this obviously isn't a good strategy for your upcoming argumentative essay.
So what makes a good argument? And what makes an argumentative essay good?
Keep reading for a breakdown of two argumentative essay examples to find out!
What Is an Argumentative Essay?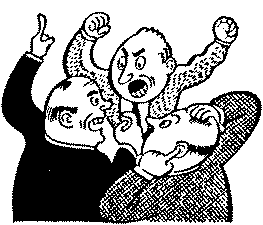 An argumentative essay attempts to convince readers. It's that simple.
In order to write a good argumentative essay, you need four basic parts:
An arguable topic. If you can't take sides on a topic, it won't work for an argumentative essay. You cannot argue whether you need a driver's license in order to legally drive a car. It's a fact. It's not open to debate. You can, however, argue whether hands-free devices are distracting to drivers.
A strong assertion or stance on a topic. Choose a topic you feel strongly about. If your friend is writing her argumentative essay about the dangers of acrylic nails and you don't have an opinion one way or another about fake nails, it isn't a good topic for you.
Solid evidence to support your argument. An argumentative essay is not an opinion essay. You need solid evidence from credible sources to support your argument. Locate facts, statistics, and quotes that will support your claims and strengthen your argument.
A counterargument. You need to acknowledge and refute the opposing viewpoint. This strategy shows readers that you've done your homework and that you realize there is another opinion. Presenting the other side of the argument actually makes your argument stronger and your writing more credible.
Two Argumentative Essay Examples With a Fighting Chance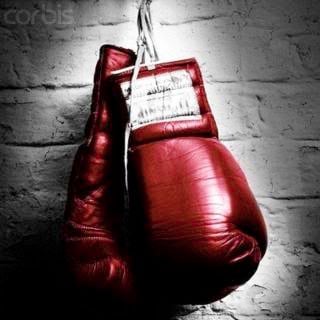 It's easy to say that all argumentative essays need a few key things. But it's not always as easy to put them in your own paper or to identify them in an actual essay.
I've evaluated two essays below to help you identify the four key components.
This essay is a good example of a basic argumentative essay.
It provides an arguable topic and a focused thesis statement, includes evidence to support claims, and shows a clear counterargument.
In the annotated argumentative essay example below, I've noted each of these sections to make it easy to spot effective writing. (You can click each page to enlarge.)
Topic, thesis statement, and counterargument: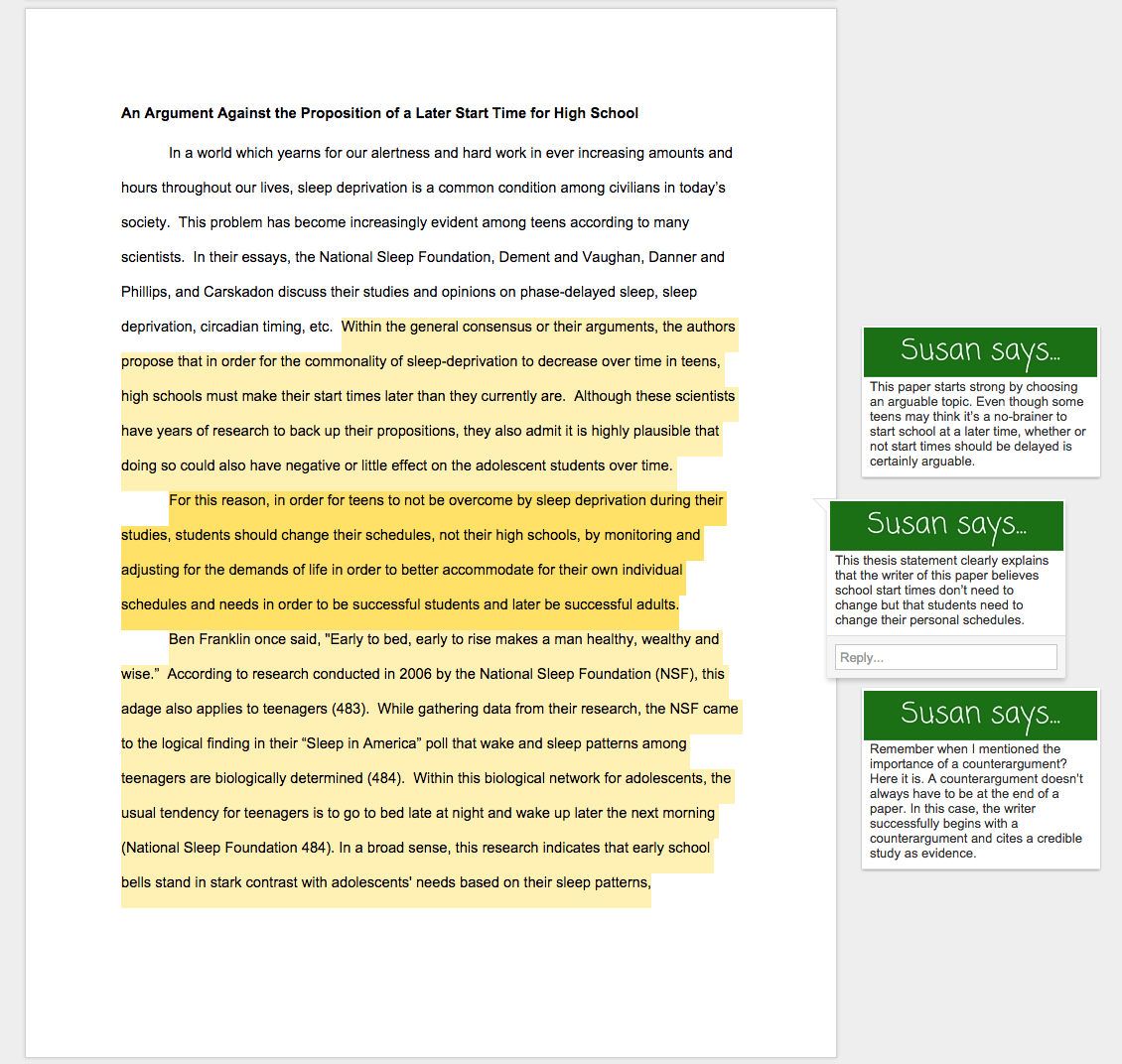 Evidence: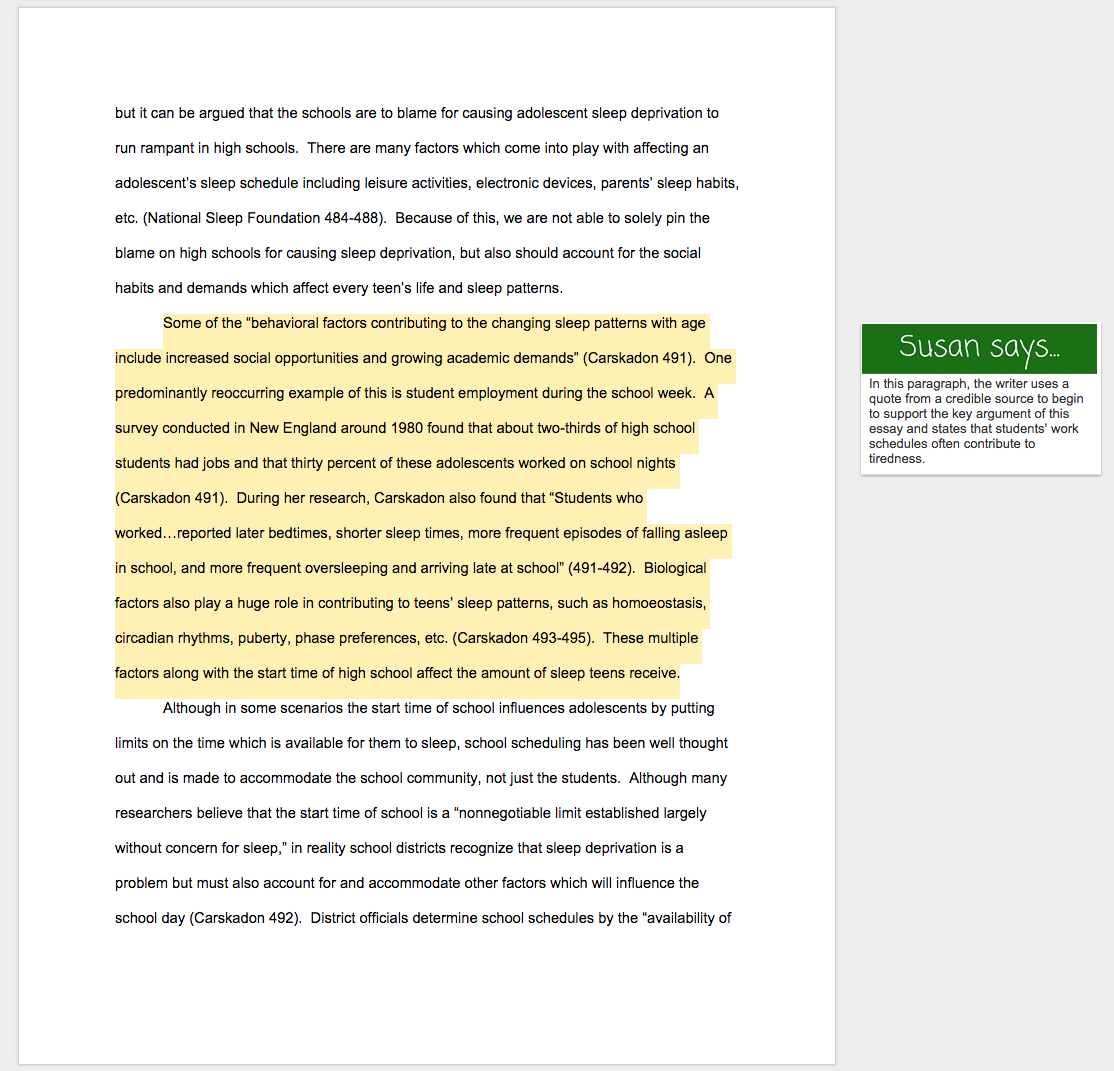 More evidence: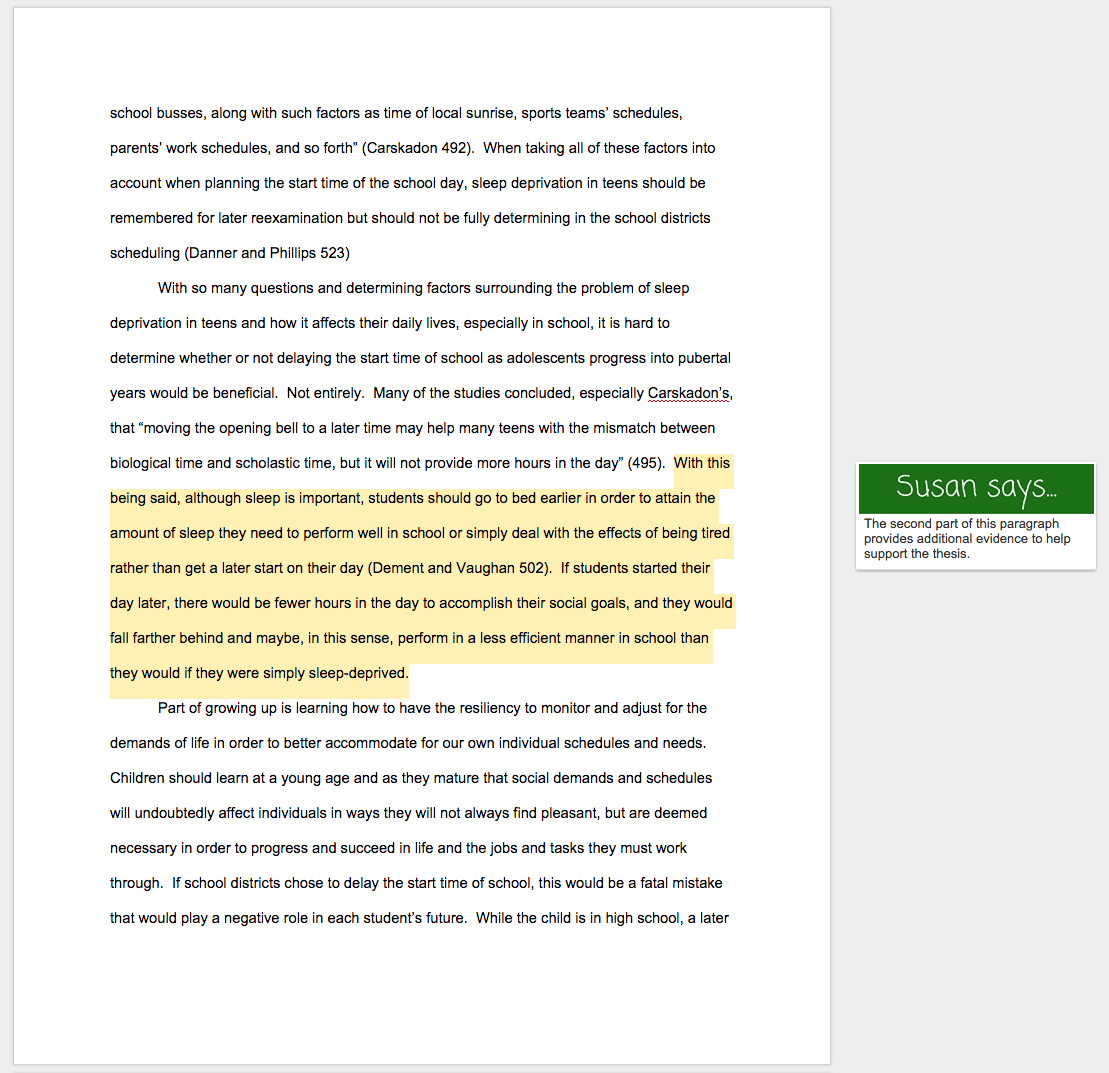 Conclusion restates thesis statement: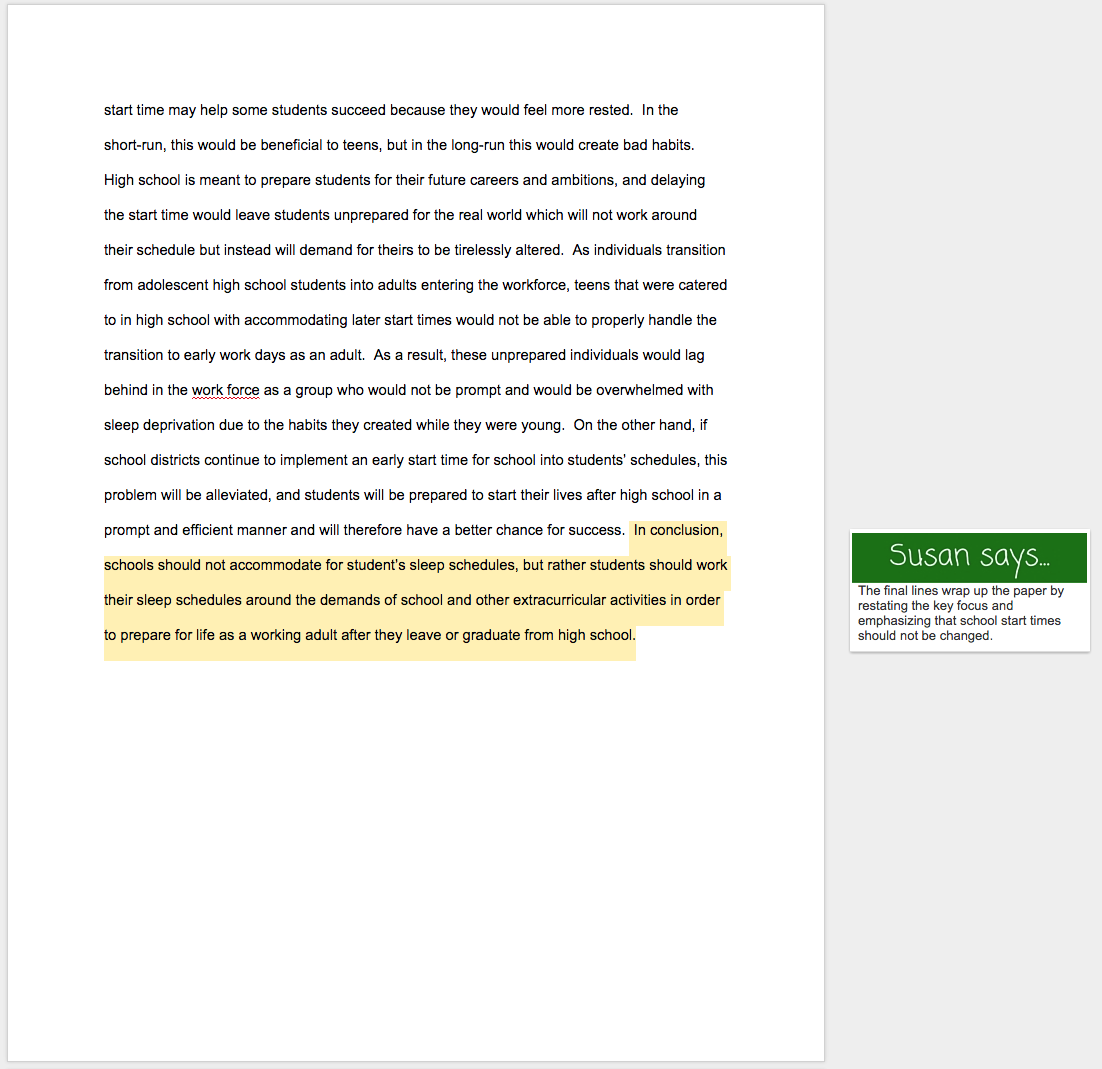 Take note, though, that this argumentative essay example is missing a Works Cited. Because the essay cites sources and is cited in MLA format, it must include both in-text citations and a Works Cited.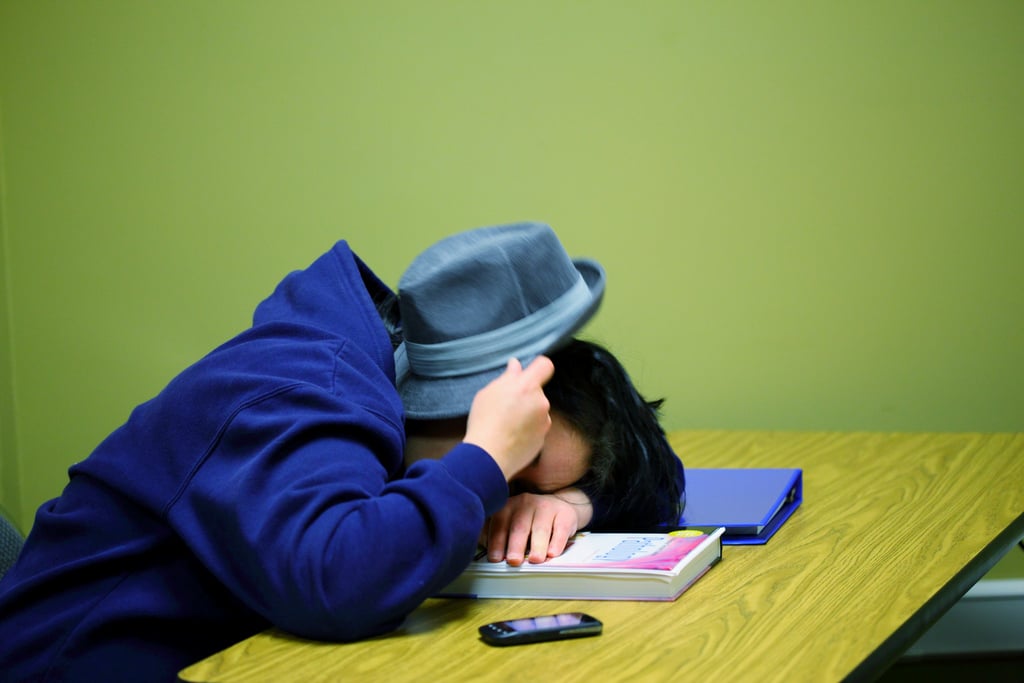 Your grades will thank you.

Never miss a post. Get free weekly writing help delivered straight to your inbox!
The second of the two argumentative essay examples, Organ Donors Should Be Financially Compensated is another example of a basic argumentative essay. It contains the key components of an argumentative essay: an arguable topic, a focused argument, evidence to support claims, and a counterargument.
I've added some comments to this essay too, to help you identify key sections of the paper and to highlight areas of importance.
Hook and thesis statement: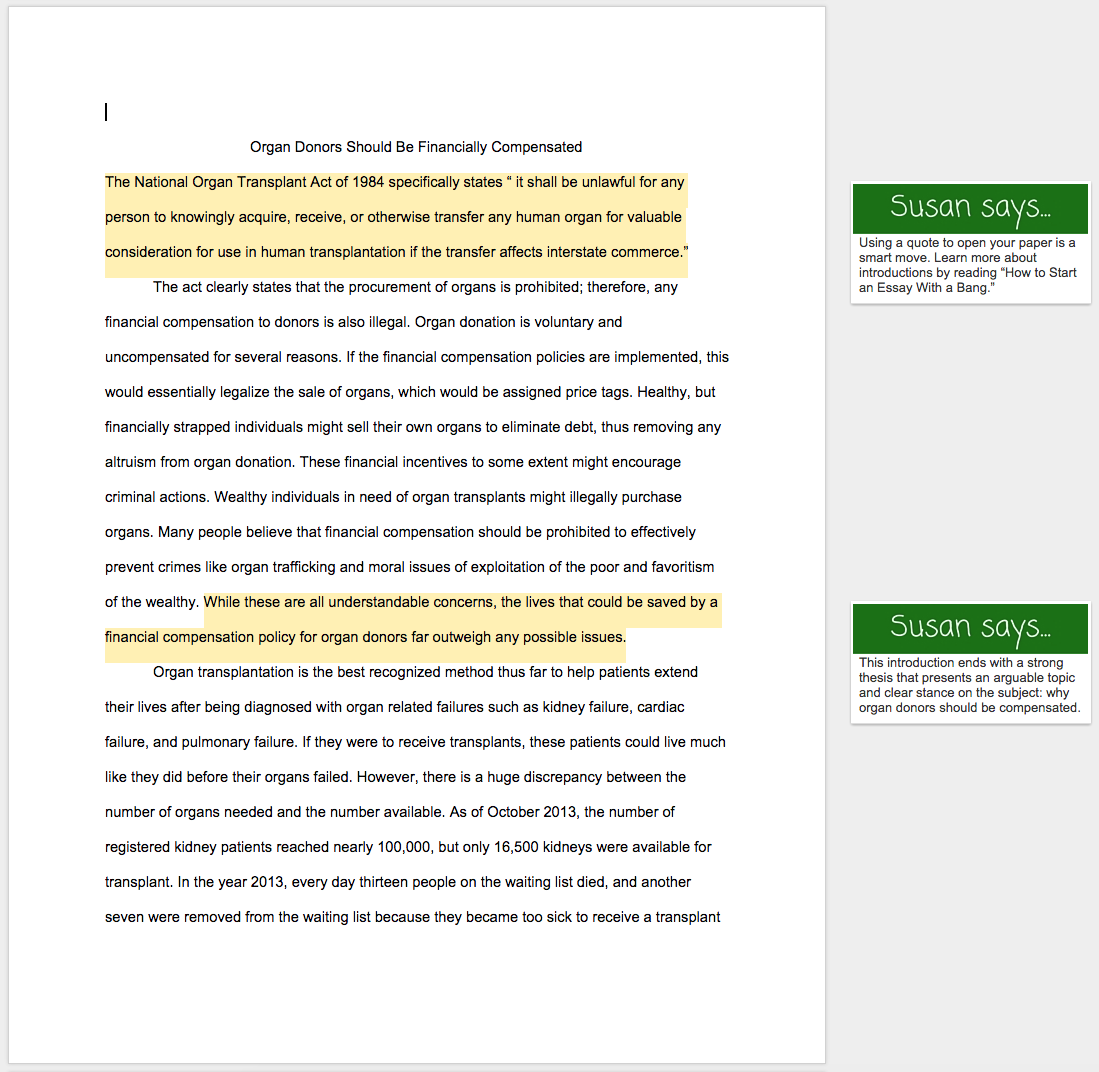 Evidence and more evidence: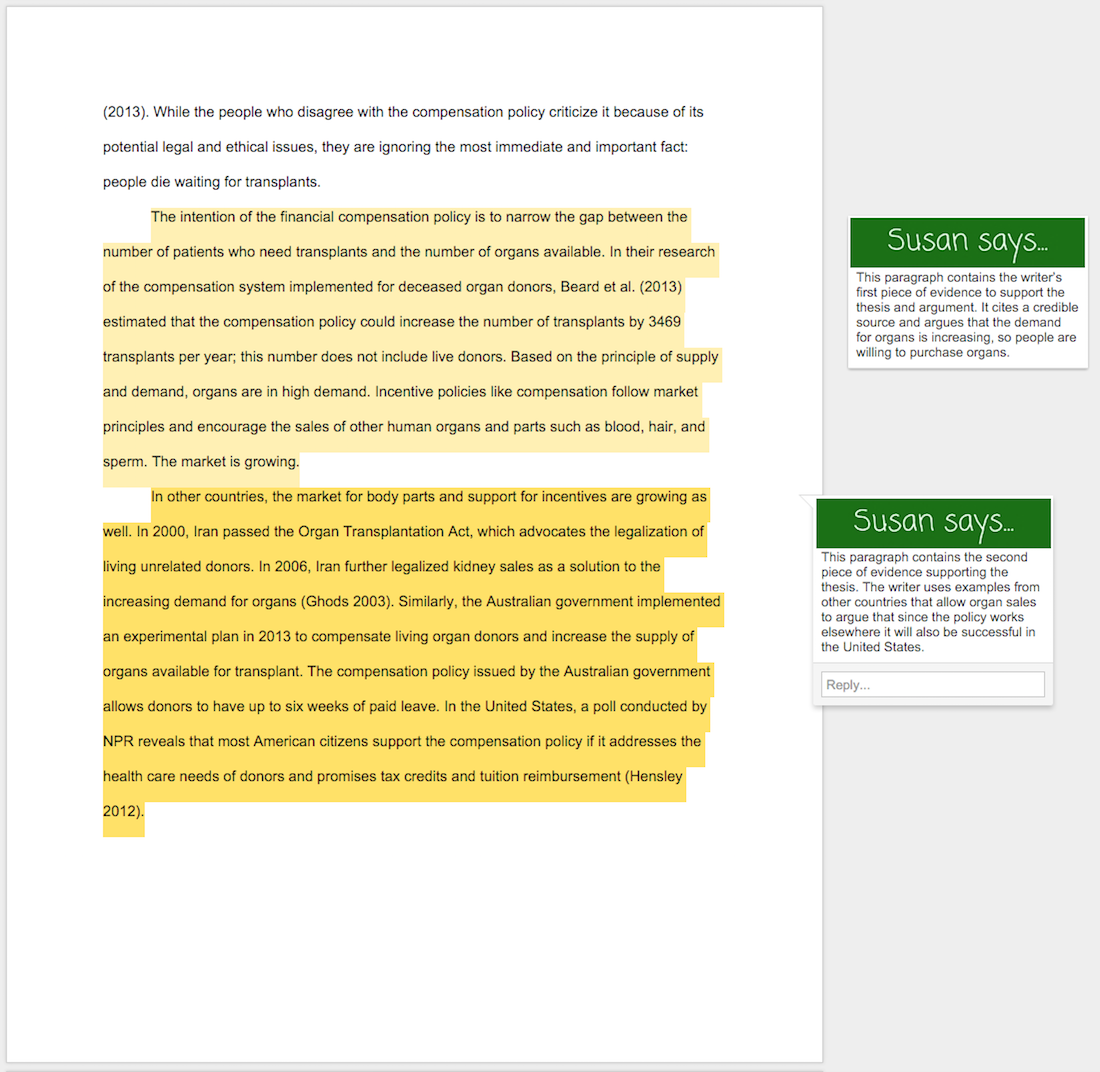 Counterargument and refutation: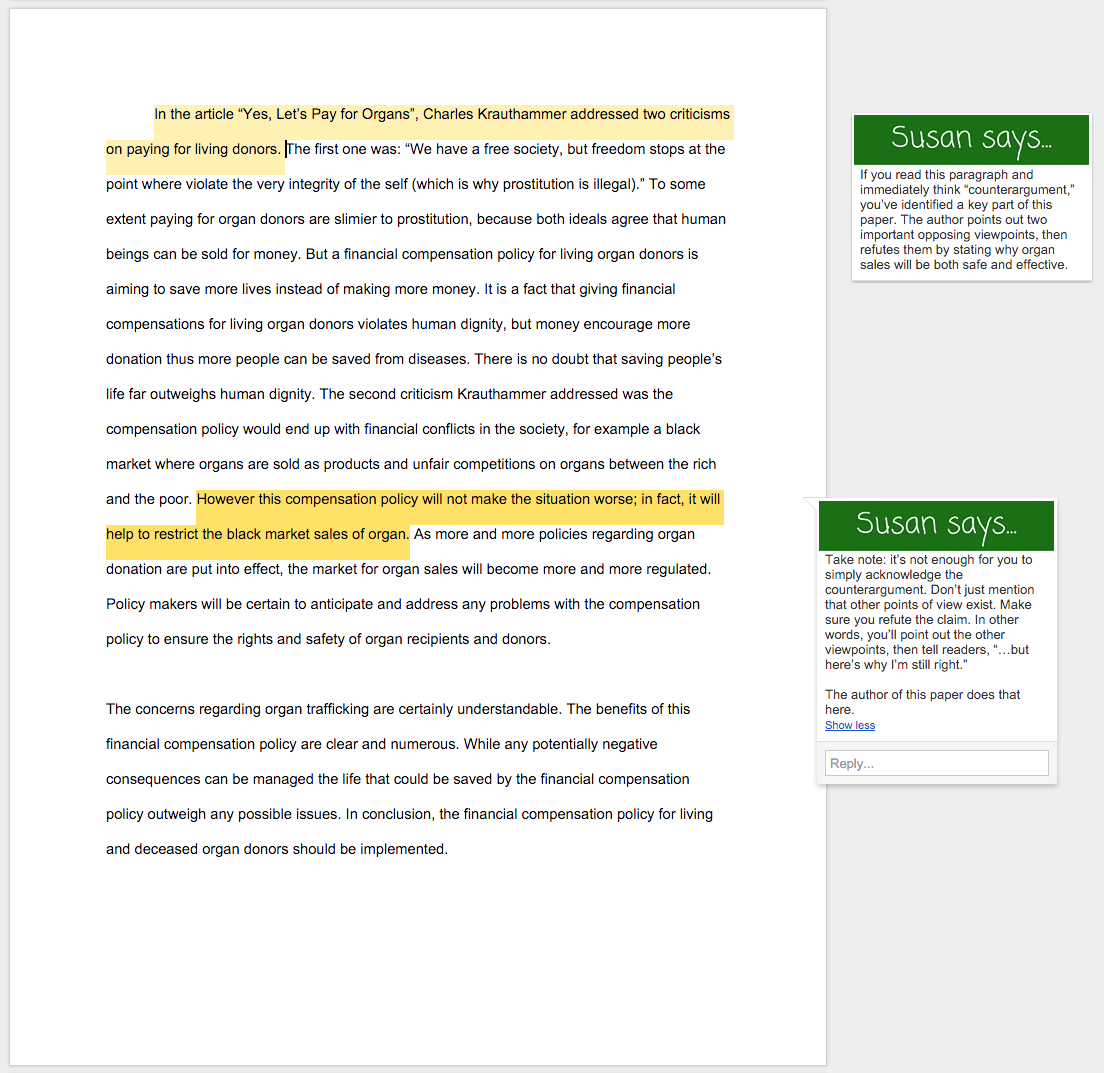 Works cited/references: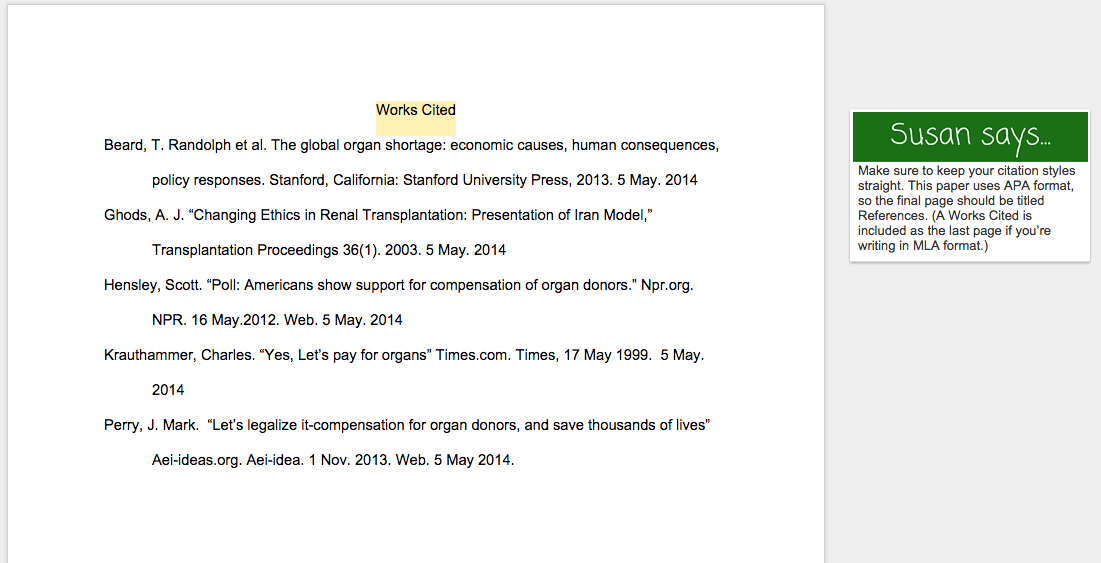 Final Words of Wisdom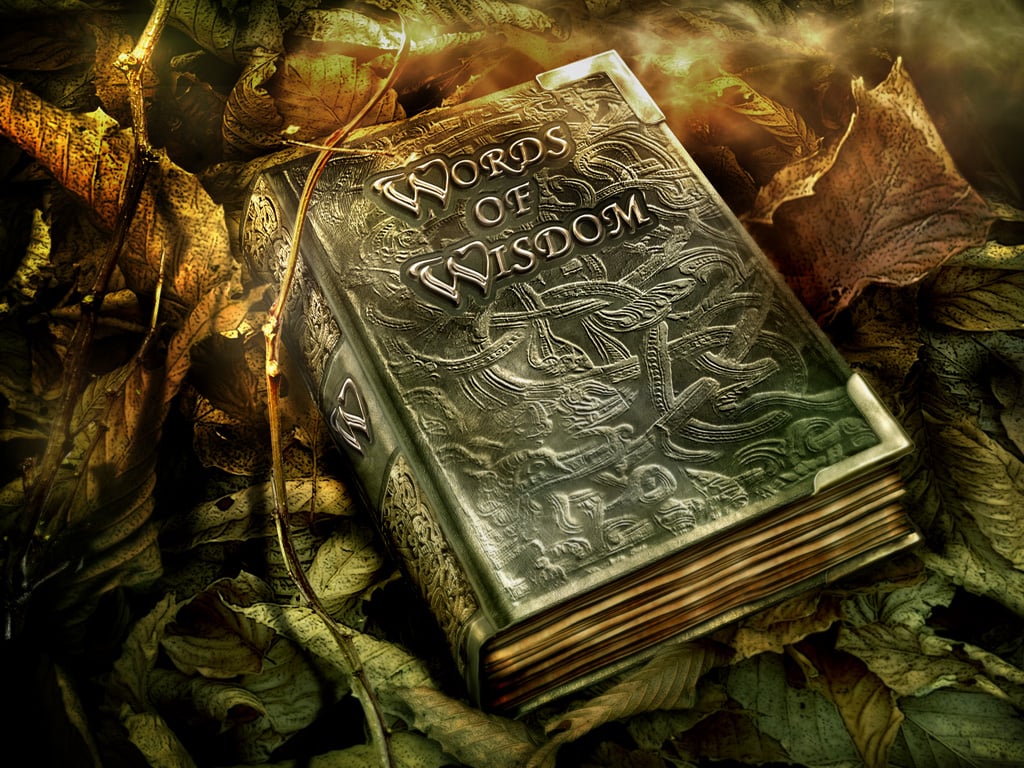 With a better understanding of what makes an effective argument, you have more than a fighting chance of writing your own stellar argumentative essay.
What's next? A topic—you cannot very well write an essay without a topic.
Here are 50 Argumentative Essay Topics That Will Put Up a Good Fight.
Most argumentative essays require research. If you need a little help finding sources or just getting started, take a look at How to Write a Research Paper: A Step-by-Step Guide.
A Few (More) Final Words of Wisdom
The purpose of an argumentative essay is to convince the reader. Once you've finished your argumentative essay, read it over once or twice (and maybe even read it out loud).
Do you believe yourself? Do you find your arguments convincing?
If you think your arguments sound pretty good, but you're just not sure that readers will be convinced, let a Kibin editor help!