Critical thinking: What would essay writing be without it? Well, you know what Mr. Spock would say.
In fact, without critical thinking, essays would be highly illogical. Critical thinking allows you to dig under the surface to understand and articulate a subject or point of view.
To put it another way: If you want to influence and impress others with your intellect and authoritative grasp of the issues, you have to put those critical thinking skills to good use.
But what exactly is critical thinking? It is the application of decision making, deductive reasoning, critical analysis, evaluating, and problem solving. In other words, it's all the ingredients that makes for a great essay.
In this post, I'll break down the essential parts of critical thinking and show how critical thinking can make your essay writing much stronger.
#1 Decision Making
Decision making is an important skill in critical thinking because it requires you to decide which choice is the best or most useful among the many available alternatives.
You use decision making when you choose your topic and thesis statement, organize your essay, do research, and determine which information is relevant. Decision making is also important in problem-solution essays, because you'll have to decide which solutions will work best with the problems you're addressing.
But decision-making also means choosing the best way to argue your opinions. After all, an incoherent opinion is about the same as having no opinion at all.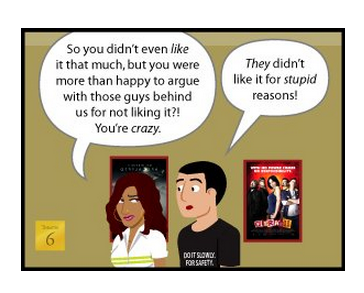 For instance, an author might be assigned to write an essay on ethics in politics. She decides to write specifically about campaign finance, but what type of essay should she write? Argumentative, problem-solution, persuasive, expository? Each type of essay offers different ways for the author to present the subject, but she must decide on one that will best serve her interests.
Having a firm grasp of the topic, understanding what it means and how it might affect you personally, is a good start to deciding how to articulate topics within essay form. This is why it helps to choose a topic and an essay type you can stand behind 100%.
#2 Deductive Reasoning
You use deductive reasoning every time you sit down to write an essay and whenever you make any important decision in your life. It allows you to determine how to arrive at a decision and how you feel or think about the essential aspects of any topic.
Let's take a closer look at how deductive reasoning is used in the process of planning and writing an essay.
Deductive reasoning makes specific conclusions from inferences through a singular line of thought. It's a logical way to understand very broad ideas. Here's a simple example of deductive reasoning at work:

Notice how the topic starts off very broadly, then narrows its approach as it finds connections between the broad and specific statements. Logically speaking, if all dogs have canine teeth, then Tuffy, who's a dog, has canine teeth too.
When writing an essay, you'll have to draw on similar inferences to make specific statements (thesis) or conclusions.
For instance, in an essay about global climate change, an author might want to examine the effects of climate change on food security. An example of how she might use deductive reasoning in her essay might look like this:

The logic of deductive reasoning is being applied here: If climate change causes droughts and droughts affect agriculture, then it goes to figure that climate change will affect access to food.
Of course the author will have to bolster her claims with facts and examples, but the outline of her essay will generally follow the deductive reasoning in her statement.
Make sure your essay follows a clear, logical path toward its conclusion. An essay with muddled or incoherent logic never grabs or influences readers.
#3 Critical Analysis
Critical analysis is the ability to analyze material and develop underlying judgments or opinions about it.
Any time you explore ideas, opinions, information, or the creative works of others, you employ critical analysis. Let's look at two types of critical analysis that are common in essays: deep reading and empirical analysis.
Deep Reading
One form of critical analysis is deep reading. Used primarily in literary criticism, deep reading is the close examination of a literary text––a novel, short story, poem, etc.––for its symbolism, metaphors, characters, and plots.
Deep reading is also the exploration of the historical, biographical, and political context in which a literary text was written to explain or understand its subtext.
For instance, an author might explore the gender politics in William Shakespeare's comedies by examining his use of language, witty dialogue, and gender characterization.
Empirical Analysis
Another form of critical analysis is empirical analysis. Empirical analysis studies a case through the experience or observation of its subjects, i.e., testing the effects of a new drug on a controlled group of patients.
Empirical analysis is especially useful in problem solving essays both to bolster and even refute solutions to specific problems.
For instance, an author might analyze empirical studies on criminal behavior to draw deeper conclusions about how laws, policies, poverty, or societal influences might affect that behavior, and then suggest changes in policy to address the problems she is examining.
#4 Evaluation
Evaluation is an extremely important skill in critical thinking. When you make an argument, you have to back it up with facts and examples, but your argument is only as strong as the information you provide. This means you have to evaluate whether the statements, opinions, facts, and figures you use are valid and logically sound.
The research you use shouldn't be biased or slanted, (i.e., cherry-picking data to fit the conclusions). Nor should it mislead readers with information that is erroneous or has been debunked. The statements you use should also have some basis in logic.
For instance, a statement that claims gay marriage will lead to decriminalizing child sex or bestiality is not very logical or sound, because the acts of consenting adults isn't the equivalent of those that aren't. It's also biased.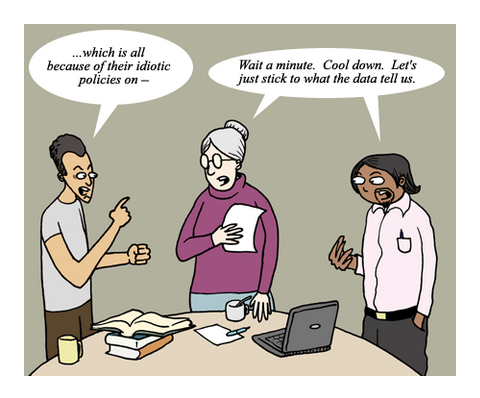 Always use information that is up-to-date, especially when it comes to scientific or medical reviews and journals. A good rule of thumb: At least half of the bibliographical material you use should be within five to eight years old. That way, you'll have a better idea of what has been updated, debunked, or found inconclusive.
Evaluation is also important to problem solving because you have to weigh the validity of one solution over the other. This means evaluating the pros and cons and reviewing data and actual examples. When the information you use is biased, slanted, or has been thoroughly debunked, then the argument you make won't be very convincing.
#5 Problem Solving
Problem solving is another critical thinking skill that you'll find useful in essay writing. In fact, it's the most important of all because, no matter how skilled, all writers will encounter problems.
Problem solving involves breaking a problem down to its finest parts and figuring out what's not working. It's sort of like what happens when you run a diagnostics test on your computer to find out why it crashed. A diagnostics test is a process of elimination that examines each essential part to determine which one has failed.
You use the same process when you encounter problems in your writing. Let's say an author is having trouble organizing her ideas coherently. This is a common problem essay writers encounter.
The author might handle this problem by breaking it down and evaluating or eliminating possible causes: Is the topic too broad? Are there too many ideas to contain within a five-structure essay? Could any one of those ideas be an essay topic in itself?
For instance, if the topic broadly explores how Shakespeare wrote about women, the author might narrow it down to characters like Lady Macbeth and how their positions of power reflected the gender politics of Elizabethan society.
By breaking down the problem and examining it thoroughly, you'll be able to figure out the cause and come up with a solution that works best. That is the very essence of critical thinking.
Let's Apply What We Know
So now that you know the basics of critical thinking, let's put it to good use and see how it's applied in an actual essay.
I pulled this New York Times op-ed "The Global Benefits of Binocularity" by Erik Parens. It investigates neurological studies that determine whether humans have free will. The op-ed draws several conclusions about the usefulness of this empirical work and what it might actually say about us as human beings.
I made up this chart to show how the author applies basic concepts of critical thinking to arrive at the conclusions he makes in the essay.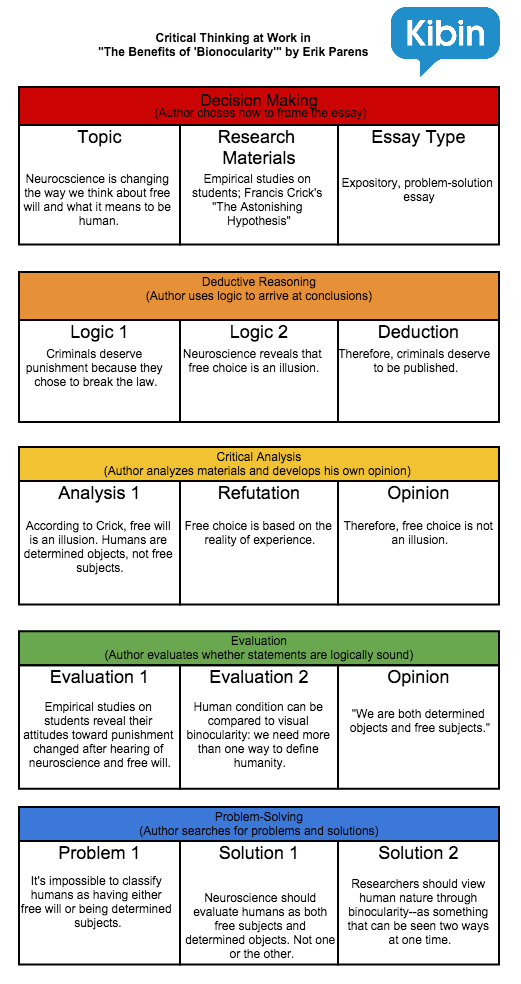 As you can see from the op-ed, Parens sets up his argument by agreeing largely with many of the neurological studies and their general importance. By critically analyzing and evaluating different sources on the subject, however, he arrives at a different conclusion about whether humans are singularly affected by neurological impulses. As the above chart demonstrates, he applied all the tools of critical thinking to arrive at this conclusion.
You'll also notice that he combines the expository and problem-solution style essays, as well. He sets up much of his essay to actually refute claims made by Francis Crick, then offers his own solution about how we should go about studying free will.
To learn about writing problem solution and expository essays, read "How to Write a Problem-Solution Essay" and "How to Write an Expository Essay That Pops" for additional help.
Final Thoughts on Critical Thinking in Essay Writing
Isn't it apparent how important critical thinking is to writing a good essay? You've already used some of these skills without realizing it. However, it's helpful to know what you're doing so that you'll be able to effectively apply these skills to your next essay.
If you need additional help, read "10 Thesis Statement Examples to Inspire Your Next Argumentative Essay," to give you some ideas on how to get started. I also recommend reading this blog post by Peter J. Francis, a teacher who explains logic on the grammatical level.
Lastly, I suggest you browse these essays to get more examples that apply critical thinking skills effectively.
So really, it's not that hard. By following the basic rules of critical thinking, you'll be able to write an essay that is compelling, persuasive, and logical.
Good luck and have fun!